Product description: Battery charger for 12 V / 0.8 A / 4-7 Ah gel batteries
Battery chargerfor 12 V DC gel batteries from 4 Ah to 7 Ah. Powered by 230 V mains voltage, with a maximum output power of 10 W. The device is protected against overload, short circuit and reverse polarity connection.
Directions for use
Connect the cables to the charger
Connect the charger to the power supply
Connect the battery to the charger
The charging process will begin
When charging is complete the green indicator light will illuminate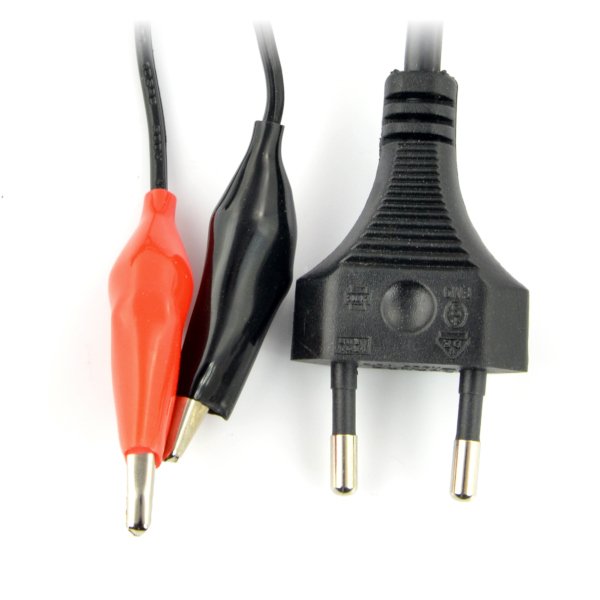 The charger has crocodile connectors.
Incl.
Battery charger for gel batteries
Set of connecting cables (including crocodile)
Charger specifications
Supply voltage 230 V 50 Hz (mains)
Charging voltage 12 V DC
Output current: 800 mA
Maximum output power: 10 W
Overload protection
Short-circuit protection
Protection against reverse polarity connection
Charging time:

For 4 Ah batteries: approx. 6 hours
For 7 Ah batteries: approx. 10 hours
Caution!
The recommended charging current for gel accumulators is approx. 10% of their capacity, e.g. for a 12 V, 15 Ah accumulator the recommended charging current is 1.5 A. Read the battery instruction manual before charging.
Charging gel batteries
Gel batteries are a very common DC power source for many portable electrical machines and equipment, as well as toys and vehicles. They play a particularly important role in places where a 230 V power socket is not available. What's more, unlike conventional batteries with liquid electrolyte, gel batteries can operate in any position, but they require a slightly more sophisticated charging process, which takes place in several stages and is carried out using special electronic chargers.
No risk of overcharging
Our gel battery charger ensures that the batteries are charged in a stable manner and that parameters such as voltage and charging current are maintained. By connecting this charger to the battery, you do not have to keep track of charging time, as is the case with conventional transformer chargers. The internal electronics switch to a sustained state of voltage once the appropriate voltage is reached at the battery terminals, without the risk of overcharging the battery.