Description
Module from the Grove series, is equipped with a gesture sensor PAJ7620U2 with I2C interface. It can recognize 9 basic gestures, such as moving up, down, left and right.  It is powered with the voltage of 5 V. It has a digital output, making it compatible with most of the commissioning modules, including Raspberry Pi and Arduino.
A video about the capabilities of the sensor.
The sensor allows you to adjust the sound volume, robot control or creating control unit which can serve multiple devices simultaneously.
Connection
The module is equipped with Grove interface that facilitates its connection to the Arduino along with Base Shield v2.0 or a Raspberry Pi with Hat from GrovePi+.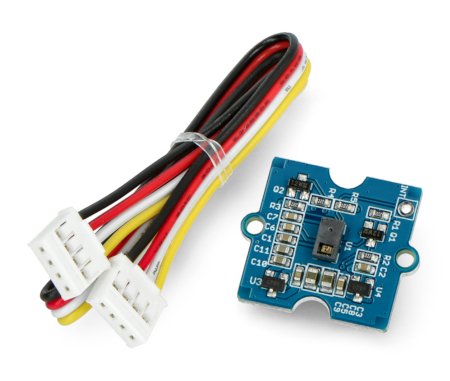 | Pin | Description |
| --- | --- |
| GND | The ground of the system. |
| VCC | Supply voltage, 2.7 V to 5.5 V. |
| SDA | Data line of I2C interface. |
| SCL | Data line of I2C interface. |
Specification
Sensor:

PAJ7620U2

Supply voltage: 5 V
The measurement speed of gestures:

Normal mode - 60 °/sec to  600 °/sec
Gaming mode - 60 °/s to 1200 °/sec

Interface: I2C
Recognition of 9 basic gestures
Operating temperature: -40 °C to 30 °C
Dimensions: 110 x 75 x 9 mm
Weight: 9 g