Description
Easy to use temperature and humidity sensor, powered by 2.5 V to 5.0 V. Communicates through an I2C interface. The sensor is used, i.a. for meteorological stations and systems of control of the conditions in the premises.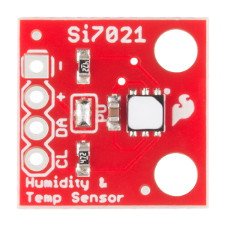 For proper operation, it is sufficient to connect power and I2C bus lines: of SDA data and of SCL clock. On board mounted are resistors pulling-up the 4.7 kΩ, if other devices are attached to the I2C bus, these resistors can be disabled.
Pins are the solder fields, for solderinggoldpin connectors- pitch of 2.54 mm. Therefore, it is possible to connect the system with the breadboardor the main module, usingwires. The set does not containgoldpin connectors, you can purchase them separately.
Specification
Supply voltage: 1.9 to 3.6 V
Current consumption: 150 µA
Current consumption in sleep mode: up to 60 nA
Module dimensions: 15 x 15 mm
Two mounting holes with a diameter of 3 mm
Temperature

Measuring range: -10 to 85°C
Resolution: 11 to 14 bit (max. of 0.01°C)
Accuracy: ± 0,4°C

Humidity:
*RH - relative humidity is expressed in percents. It is the ratio of actual humidity in the air to its maximum number that can keep the air at a given temperature.