Product description: CAN BUS OBD-II RF Dev Kit - 2.4Ghz diagnostic module - SeeedStudio 110061304
The module is equipped with CAN 2.0 interface and standard OBD-II connector. The device is also equipped with wireless transmission system 2.4 GHz, which allows for remote reading of parameters from OBD-II interface. With the use of this module it is possible to read the most important vehicle parameters via CAN-BUS interface such as vehicle speed, engine speed, oil temperature etc. Radio communication allows for data transmission in the range of hundreds of meters without using CAN-Bus cable. The module can be used together with Arduino. OBD-II RF Dev Kit consists of two parts: transmitter and receiver. Transmitter plugs directly into OBD-II connector in the car and integrates with CAN-Bus interface and RF communication. Receiver with radio module receives data from the transmitter and sends it to the microcontroller via the serial interface.
There is also available a version that uses wired communication - check it out!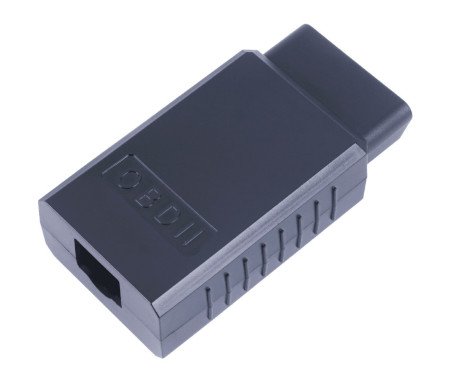 OBD-II transmitter in a housing.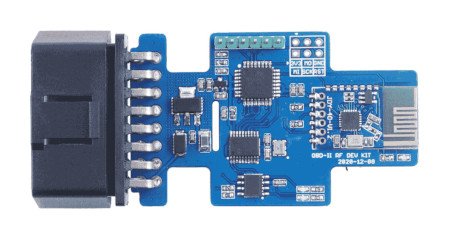 The OBD-II transmitter module with 2.4 GHz RF communication.
Main features of the diagnostic module
Communication via CAN 2.0
Wireless data transmission via RF at the 2.4 GHz band
Standard automotive OBD-II connector
Easy-to-use Arduino library
Communication over a distance of up to 120 m
The manufacturer prepared a user guide that makes using the module much easier. The guide includes instructions how to connect the module and sample Arduino program code.
Diagnostic module specification
Circuit: Atmega 168PA
Baudrate: 9600
Communication distance: 120 m
Transmitter supply voltage: 12 V
Receiver supply voltage: 3,6 V
Dimensions: 180 x 110 x 20 mm
Weight: 53 g
Contents of the set
Transmitter with housing
Receiver module
Grove cable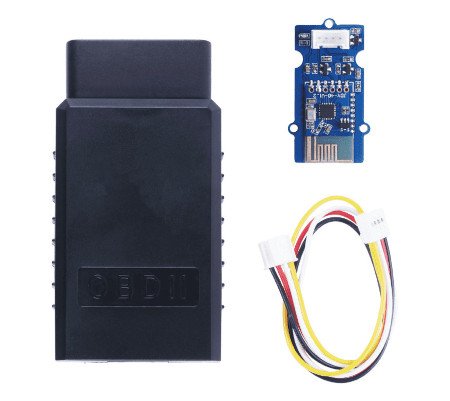 Contents of CAN BUS OBD-II RF Dev Kit.