Description
The sensor is used to detect fire. It is powered with the voltage from 3.3 V to 5.3 V. The range of the sensed wave: from 760 nm to 1100 nm. The output is an analog voltage and digital signal which changes status when exceeding a given potentiometer threshold. The device operates in temperatures from -25 °C to 85 °C.

Despite the fact that the module detects a fire, it has not an anti-fire protection. Therefore, the distance from the fire should be preserved to prevent damaging of the board.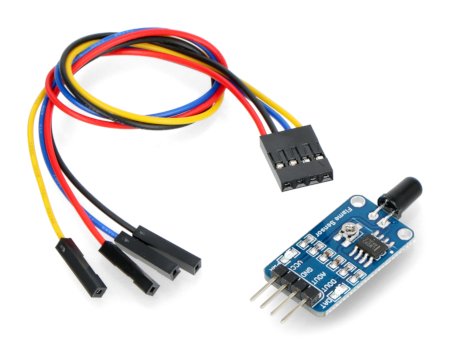 The connector cable is connected with female tips, to the module.
Sensor maintenance
The sensor has an analog input that should be connected to the pin of the converter A/C (analog input inArduino). It also has a digital output, which sensitivity level can be adjusted using the integrated potentiometer.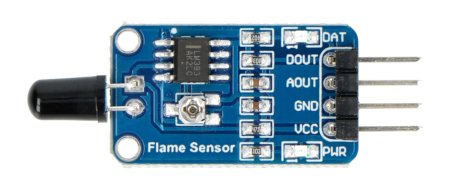 | Pin | Description |
| --- | --- |
| VCC | Supply voltage from 2 V to 5 V. |
| GND | The ground of the system. |
| AOUT | Analog output with voltage proportional to the level of fire detection. |
| DOUT | Digital output which sensitivity is set using the potentiometer. |
Specification
Supply voltage: from 3.3 V to 5.3 V

Range of the sensed wave: from 760 to 1100 nm

Detection angle: 0 to 60 °

Operating temperature: -25 to 85 °C

Module dimensions: 27.3 x 15.4 mm