Description
The sound level meter is compatible with Arduino. For measurements, it uses the circuit instrument and the microphone with a low noise level that allows to accurately measure the sound level in the environment. It measures the sound in the range of 30 DBA to 130 DBA. It is powered with the voltage from 3.3 V to 5 V.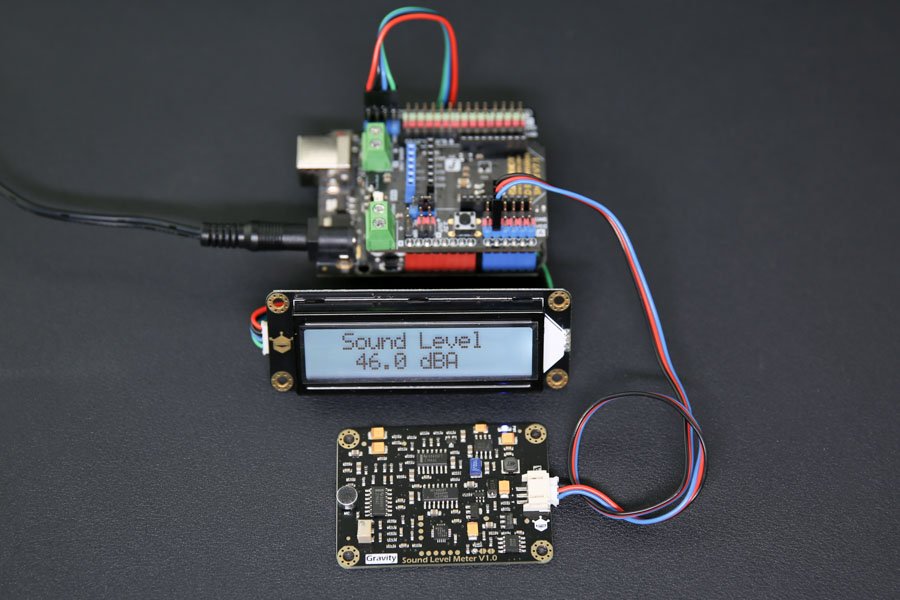 The sound level meter with Arduino DIY.
The set does not contain thedisplayorthe Arduino, these elements are sold separately.
The sound level meter can be used to measure noise on the road of fast motion or in the closed spaces.
Attention!
Black film on the microphone is an element of the sensor, it should not be touched with sharp elements.
Key features
High precision: it uses the circuit instrument and a microphone with low noise level
Output voltage: from 3.3 V to 5 V
Easy conversion: linear analog output from 0.6 V to 2.6 V, the linear compliance from 30 DBA to 130 DBA, it does not require a complex algorithm
Easy to use: plug and play, no soldering
Specification
Input voltage: from 3.3 V to 5 V
Input current: 22 mA to 14 mA
Output voltage: 0.6 V to 2.6 V
The measurement range: 30 DBA to 130 DBA
Measurement error:

± 1.5 dB

Frequency range: 31.5 Hz to 8.5 KHz

Feature of time: 125 ms
Dimensions: 60 x 43 mm
Set includes
1x analog meter of volume
1x Gravity 3-pin cable