Product description: BleBox tempSensor Pro - WiFi temperature sensor - Android / iOS application
Ready-made moduleBleBoxtempSensor Pro that allows you to measure temperature overWiFinetwork using smartphone app from anywhere in the world. The sensor allows you to be notified when the temperature exceeds a certain range and control other devices depending on the ambient temperature. The pro version can be poweredfrom 12V to 24V. The includedwaterproof probewith a length of2 m, allows for temperature measurements in the range of-55 ° C to 125° C. Housing of the device withincreased weather resistance(IP54) and externalantennaallows you to place it anywhere you want, even away from your router.
Main features of BleBox tempSensor Pro
Remote temperature monitoring via WiFi from anywhere in the world thanks to free wBox application for Android and iOS mobile devices.
Control other devices depending on temperature changes.
Receive notifications from the app when temperature range is exceeded.
Included 2 meter waterproof probe allows for measurement in the range of -55 ° C to 125 ° C.
Possibility of connecting 4 probes with a maximum length of 30 m to one sensor.
Module powered from 12 V to 24 V.
Enclosed in a housing with increased resistance to weather conditions - IP54.
Additional antenna to increase the WiFi range of the device.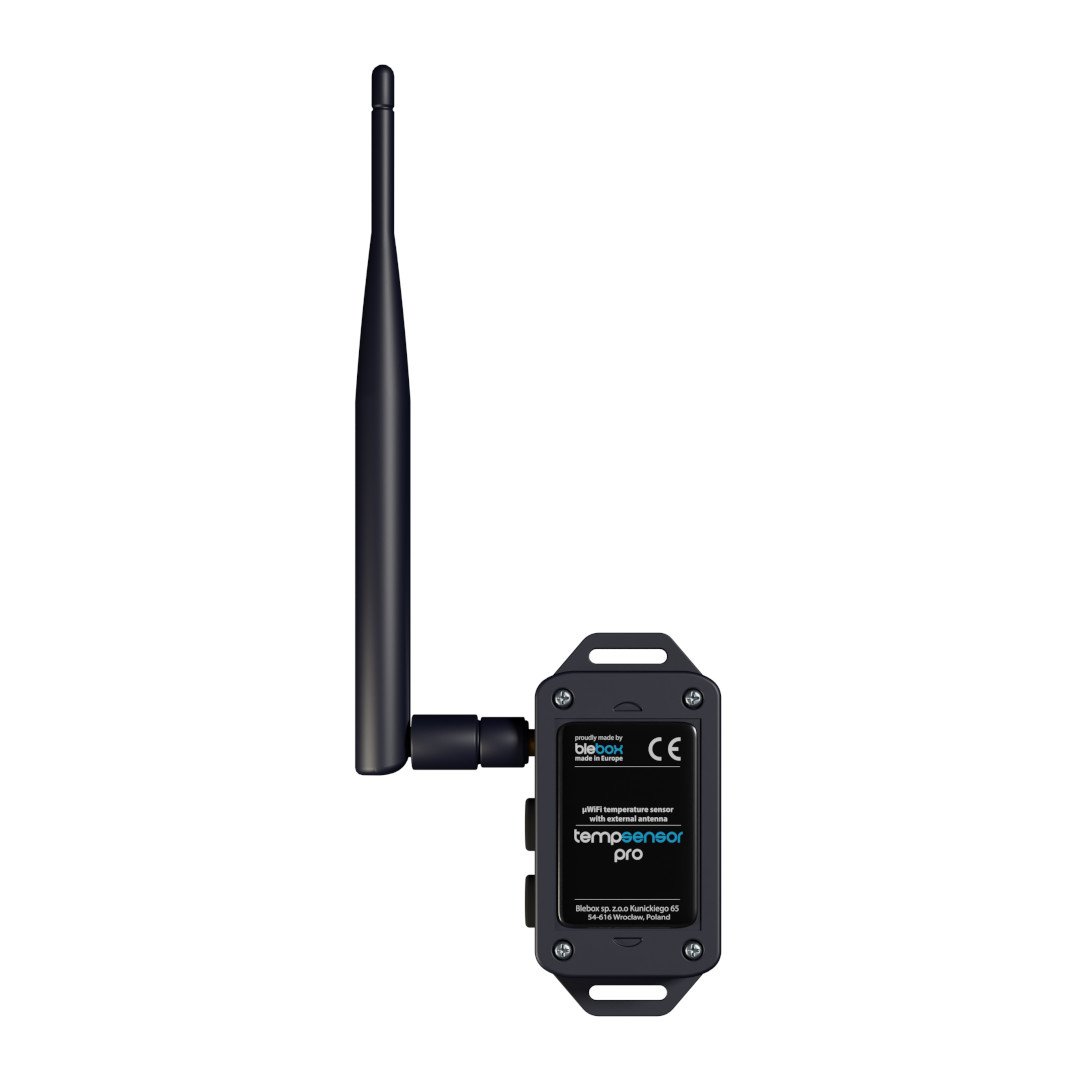 WiFi temperature sensor BleBox tempSensor Pro.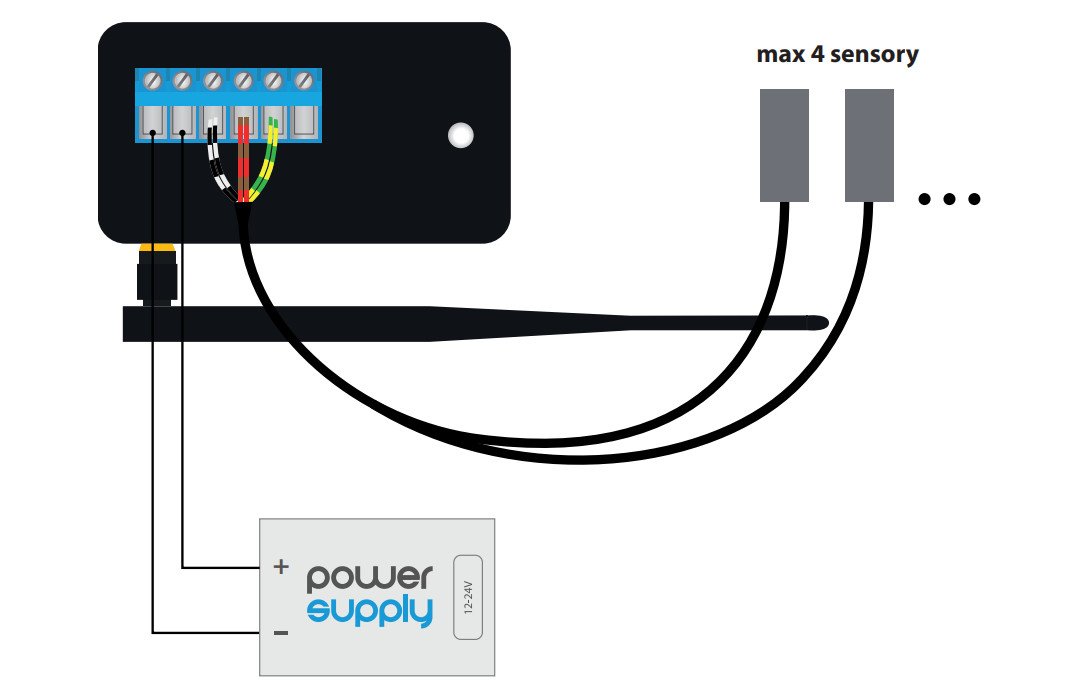 Wiring diagram of WiFi tempSensor Pro
Before connecting the sensor, disconnect the power supply in the circuit by switching off the relevant fuse in the power supply circuit or unplugging the power supply from the outlet.
BleBox tempSensor Pro module has a6-pin screw connector, to which you should bring the power supply from 12 V to 24 V and connect the temperature probe, in order of wire colors (from left):
connector1- supply voltage, ground (GND)
connector 2- power supply from 12 V to 24 V
black or white- temperature probe ground
red or brown- supply voltage of the temperature probe
green or yellow- temperature probe signal
connector6- not connected, designed to expand the application possibilities of the product
Application of BleBox WiFi temperature sensor
Due to weatherproof housing, sensor can be used inoutdoor conditions. It can be used in greenhouses, where the sensor allows you to maintain the right temperature by controlling other intelligent devices. The sensor can be used in intelligent buildings and more professional industrial environments thanks to the ability to work with voltageup to 24V.
Specification of WiFi temperature sensor BleBox tempSensor Pro
Supply voltage
12 V to 24 V
Power consumption
up to 1 W
Measuring range
from -55°C to 125°C
Controller operating range
from -20°C to 50°C
Accuracy of measurement
± 0.5°C in the range from -10°C to 85°C
Housing
plastic, sealed with a halogen-free polyurethane composition, self-extinguishing for thermal class B (130°C)
Probe dimensions
6 x 51 mm
Probe type
single, waterproof, cable length 2 m
Additional probes
yes, available as an accessory
Maximum number of probes connected
4
Mounting method
two 18 x 3.5 mm oval mounting holes or self-adhesive element (tape)
Degree of protection
IP54
Protection
reversed polarity, ESD
Antenna output
yes
Antenna connector type
RP-SMA
Antenna
omnidirectional, 5 dB gain - included
Communication standard
µWiFi, WiFi compatible, 802.11g
Transmission type
bidirectional, encrypted
Encryption
WPA2-PSK and authenticated encryption (AEAD)
Mode of operation
direct connection (Acces Point), WiFi connection via router, connection with access from anywhere in the world
Transmission frequency
2.4 GHz
API
open
Controller dimensions
50 x 92 x 28 (without antenna), 85 x 230 x 28 mm (with antenna arranged vertically), antenna length 197 mm