Description of product: 2.5m electroluminescent cable - green
Flexible electroluminescent cable is a rigid core coated with phosphor and then covered with a protective PVC sheath. Emits a red glow when powered on. Its length is 2.5 m and width is 2.6 mm. It remains its shape - it is flexible. The electroluminescent cable consumes less energy than LEDs.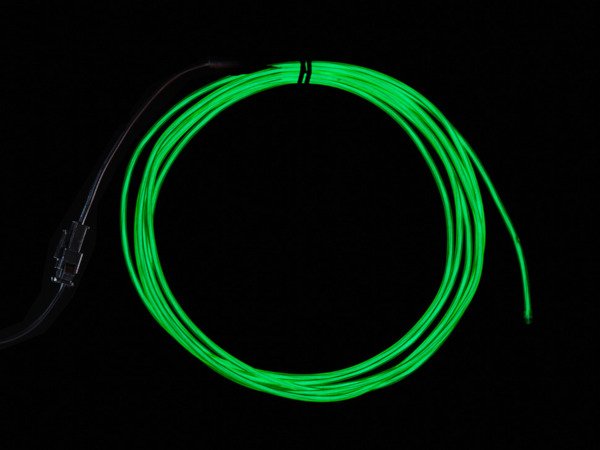 The cable is powered by 90 V AC / 1.5 kHz, allows light emission to 115 cd / m2, its brightness decreases by 50% after 3000 hours of continuous use. It uses approx. 10 mA per meter. The electroluminescent cable is not intended for outdoor use. The light emission from the phosphor may be weaker with continuous exposure to UV radiation.
Electroluminescent lighting application
Directional lighting
Lighting costumes
Safety vest
Decoration
Signs, ads
Your own projects
Technical characteristics of the electroluminescent cable:
Power voltage from 90 V AC / 1.5 kHz
Light intensity: 115 CD / m2
Half-life: 3000 h
Connector: 2 - pin JST PH
Color: green
Length: 2.5 m
Width: 2.6 mm