Product description: Set of Raspberry Pi 400 EU 4GB RAM 1.8 GHz + official accessories
Set with "all in one" computer integrated with the keyboard.TheRaspberry Pi 400 has a four-coreARM Cortex A72processor,4 GB of RAM,Ethernet port, 3 USB ports, two microHDMI ports and a 40-pin GPIO. It also includes an official optical mouse, power supply, 16GB microSD card and microHDMI cable.
L.p.
Photo
Name
1
Raspberry Pi 400- an all in one minicomputer enclosed in a housing that is also a keyboard. Equipped with a four-core 1.8 GHz processor and 4 GB of RAM.
2
The original Raspberry Pi- 5.1V with a current capacity of 3.0A with USB C connector - currently

shipped in white.

3
Official Raspberry Pi- official USB mouse with ergonomic design, equipped with three buttons and a roll.
4
MicroHDMI - HDMI- 1 m longcableto connect Raspberry Pi to a monitor. Sent in white.
5
16GB microSD card class 10- 16GB high-speed memory card with Raspberry Pi OS.

6
User's guide - an illustrated book with instructions for use of the device.
Image and sound in the Raspberry Pi 400 minicomputer
Raspberry Pi 400 is equipped withtwo microHDMI connectors, which allow for video and audio transmission at resolutionsup to 4 K / 60 fps. Raspberry Pi 400 is equipped with VideoCore VI graphic processor, which supportsHEVC / H.265compression standard andOpenGLES 3.1, Vulcangraphics.
Operating system for Raspberry Pi
The minicomputer has amicroSD memory cardslot on which the operating system is installed. The system can be installed using a computer with a memory card reader. In our offer you will findmemory cardswith the Raspberry Pi OS. It is also possible to install Windows 10 IoT on your own.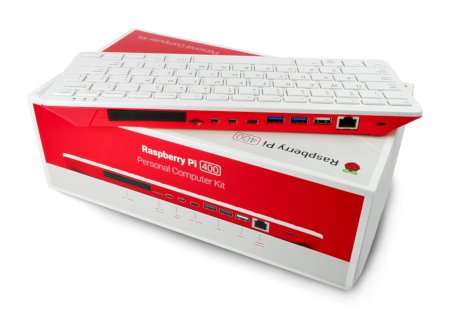 Ports in Raspberry Pi 400.
Communication in Raspberry Pi 400
The device is equipped with popular communication interfaces, which can also be found in traditional PCs or laptops, these are:
2 microHDMI connectors- used to connect two screens with resolution up to 4 K.
2 USB 3.0 and 1 USB 2.0 connector- allow you to connect various USB accessories such as mouse, WiFi network card. USB 3.0 allows you to quickly transfer data from an external drive.
Ethernet port- provides a connection to the Internet at speeds of up to 1 Gb/s through an RJ45 connector.
WiFi module- 2.4 GHz or 5 GHz 802.11./g/n/ac dual-band communication - works with the drivers built into Raspberry Pi OS.
Bluetooth 5 module- popular 5.0 standard wireless communication.
GPIO- 40 pins of general purpose input/output, including such interfaces as: I2C, SPI, UART. They are used to connect LEDs, buttons, various types of sensors.
Raspberry Pi 400 specification
Basic information
Model
Raspberry pi 400
Edition
11 - 2020 r.
Technical specification
Chipset processor

Broadcom BCM2711 64-bit

Core
Quad-Core ARM Cortex-A72
Operating systems
Linux / Raspberry Pi OS
Clocking
1.8 GHz
Architecture
ARMv8-A
Memory RAM
4 GB LPDDR4-3200 DRAM
Memory
microSD card
GPIO socket
40-pin connector (2x20 pin) raster 2.54 mm
Power supply

5.0 V / 3 A via USB C
5 V by GPIO

Dimensions
285 x 122 x 20 mm
Interfaces
USB interface

2x USB 3.0 - socket type A

1x USB 2.0 - socket type A

Network interface
Ethernet port 100/1000 Mbps
WiFi interface

Dual Band 2.4 GHz and 5 GHz

802.11 b/g/n/ac

Bluetooth interface

Low Energy, BLE 5.0

Video

2 x microHDMI

H.265 4K 60 fps

H.264 1080p 30 fps

OpenGLES 3.1, Vulcan

Communication
UART, SLEEPING, I2C, GPIO