Description
Extension in the form of the gamepad, allowing you to create a mini console for games based on the BBC Micro:bit. The module has four colored buttons, high quality, dual-channel joystick with analog output and buzzer to play sounds. All is powered with Li-Ion 14500 rechargeable battery (not included) which can be powered via the micro USB port on the board.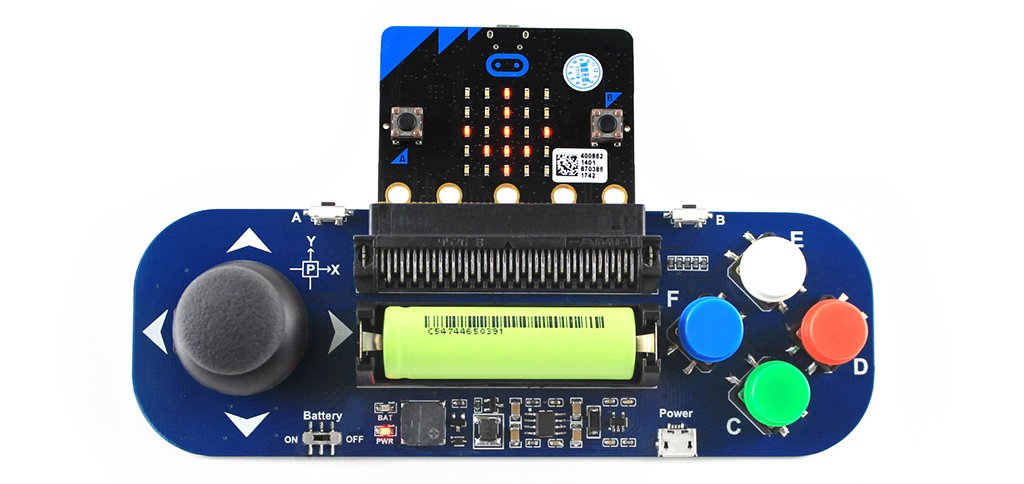 The sale includes the module of the gamepad, minicomputerMicro:bit, andLi-Ion rechargeable batterycan be purchased separately.
Pins
The module is powered by 5 V from a rechargeable batteryLi-Ion 14500(not included).

| Symbol | Pin | Description |
| --- | --- | --- |
| A | 5 | The A button |
| B | 11 | The B button |
| C | 15 | C button. |
| D | 14 | The D button. |
| E | 13 | E button |
| F | 12 | Button F. |
| X | 1 | The joystick X-axis. |
| Y | 2 | Joystick Y axis. |
| P | 8 | The joystick button. |
| Buzzer | 0 | Buzzer. |
Specification
Supply voltage: 5 V - from level of the rechargeable Li-Ion battery 14500
On board:

4x colour button
2x button A / B
Joystick
The power switch
LEDs informing about the battery level -1/2/3/4 blinking indicates about 

25%/50%/75%/100% of the battery capacity

MicroUSB connector for battery charging

Buzzer for playing the sound

Board sizes: 150 x 50 mm