Product description: Eura-tech EL Home MD-11B7 - external PIR motion sensor 230V - black
Photo-optical sensor providing motion detection, designed for installation outdoors. It is used to automatically turn on the  lights and other devices. It can be attached to a wall or ceiling, adjustable vertically and horizontally. It has the adjustment of the working time and the outdoor lighting threshold. Operating distance is up to 12 meters. It is powered with the voltage of 230 V AC.The module has IP65 protection level.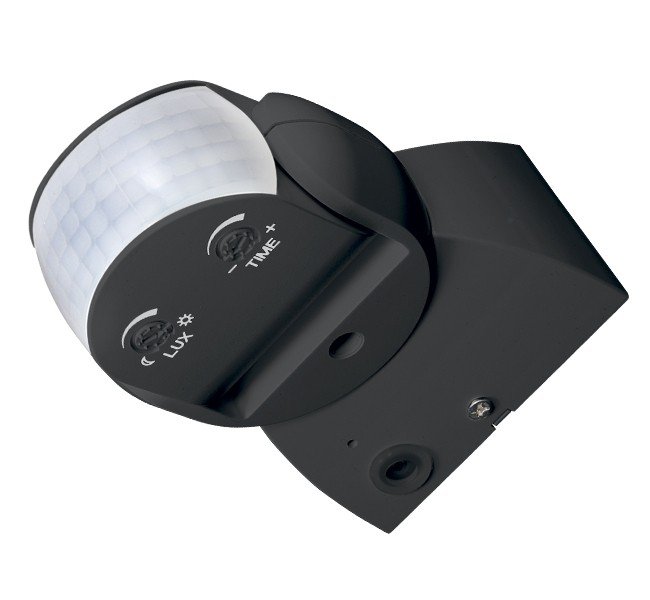 The module can control the lights or any other electrical device.
It has the adjustable lighting time and ambient light level at which it begins to work.
Specifications of the motion sensor EL Home MD-11B7
Supply voltage: from 220 V to 240 V AC
Sensor type: PIR
Mounting location: outside / inside
Recommended mounting height: from 1.8 m to 2.5 m
Detection angle: 180 °
Detection range: up to 12 m
Adjusting the delay time:

Minimum: 10 seconds +/- 3 seconds
Maximum: 7 minutes +/- 2 min.

The adjustment range of the illumination threshold: 3 Lux to 2000 Lux
Max. resistive load: 1200 W
Maximum inductive load: 300 W
Protection factor of the case: IP65
Color: white
Operating temperature: -18 °C to 40 °C
Dimensions: 52 x 80 x 124 mm
Weight: 160 g