Product description: TReX DMC02 - two-channel motor controller 24 V / 2.5 A
TRex DCM02 is a smaller and cheaper version of TReX controller. It is used forsmall motors.It has a current capacity of 2.5 A for each channel. It allows to control motors through a serial interface (RS232 or TTL), control a radio receiver or an analogue voltage source, e.g. a potentiometer.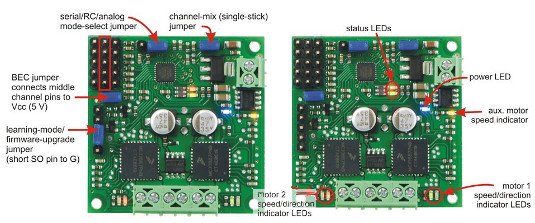 Control .
The controller uses five input channels to receive radio or analogue signals. In this mode the channels have the following functions:
Channel 1: speed and direction of the first motor, and in the mix mode, turn left/right
Channel 2: speed and direction of the second motor, and in mix mode - forward / reverse
Channel 3: auxiliary (unidirectional) engine speed
Channel 4: used to enable inversion mode, which allows for control of inverted robots
Channel 5: determines whether the motors are controlled by input channels or by the serial interface. It allows switching between autonomous and human control
The serial interface can be immediately switched from one of the other interfaces, allowing a combination of standalone and remote control. For example, the robot can operate autonomously in most cases, but manual control can be activated when the robot gets stuck or in another dangerous situation. If the serial interface is selected as the main one, all five input channels are available to the robot controller, allowing unrestricted combination of operator and sensor control. For example, TReX is the ideal controller for a balancing robot.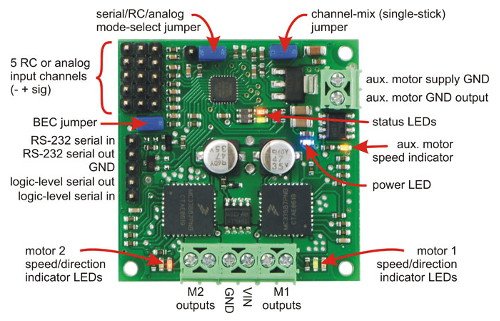 Specification
Supply voltage: 5 V to 24 V
Main engine outputs: 2 bi-directional, continuous current 2.5 A (momentary 5 A)
Additional output: 1 unidirectional, 10 A continuous current
Speed control: 128 steps in each direction
Interfaces: (main interface set by jumper)

RC servo pulses (radio-controlled)
Analogue voltage
Serial Commands

Radio pulse measurements:

Resolution: 12-bit
Accuracy: 1 us

Analogue measurements: 10-bit resolution
Serial interface: RS-232 and TTL (logical levels), two-channel
Signal transmission speed: 1200 to 115 200 b/s
Extended protocol: allows multiple servos and controllers to be connected to a single serial line
Compact protocol: allows two motors to be set up simultaneously using three bytes
Dimensions: 4.5 x 4.5 x 1.3 mm
Weight: 15 g
Remote / analog control
The BEC jumper enables power supply to the RC receiver or analog controller
Mixed mode jumper allows for differential control
Automatic controller calibration (TReX learns the ranges for the channel itself)
Options available via serial control
Available input values of all 5 channels
Mapsed input values show what TReX would do if it was under control
Optional 7-bit cyclic redundancy to ensure correctness of commands
The calibration values can be clearly read and set
Each channel can be inverted and parabolically scaled
Maximum speed, acceleration and current limit settings
Possibility of setting the brakes of two-way motors
Software update
Safety options
Safe-start prevents accidental starting of the engine at start-up
Optional automatic motor shutdown in the event of a communication error, exceeding the response time or signal interference
The TReX driver does not require a serial interface. It works as ESC by default. If non-serial communication is used, all module functions cannot be accessed.