Settings
Supply voltage: 5 V
LED matrix 8 x 8
Communication interface: SPI

Led color: red

Module dimensions 50 x 32 mm
Matrix dimensions: 32 x 32 mm
Included
PCB
LED matrix 8 x 8
Driver MAX7219 with stand
Electrolytic capacitor 10 uF / 25 V
Ceramic capacitor 100 NF / 25 V
Resistor 10 kOhm
Set of goldpin connectors
Kit requires basic soldering of separate electronic components.
Description
The set includes a display in a form of a LED matrix 8 x 8 with a controller and all necessary passive elements. The MAX7219 control system communicates via the SPI bus, which means it can be easily controlled using microcontrollers including AVR and Arduino modules. The description, together with a library and a sample program for users of Arduino can be found here.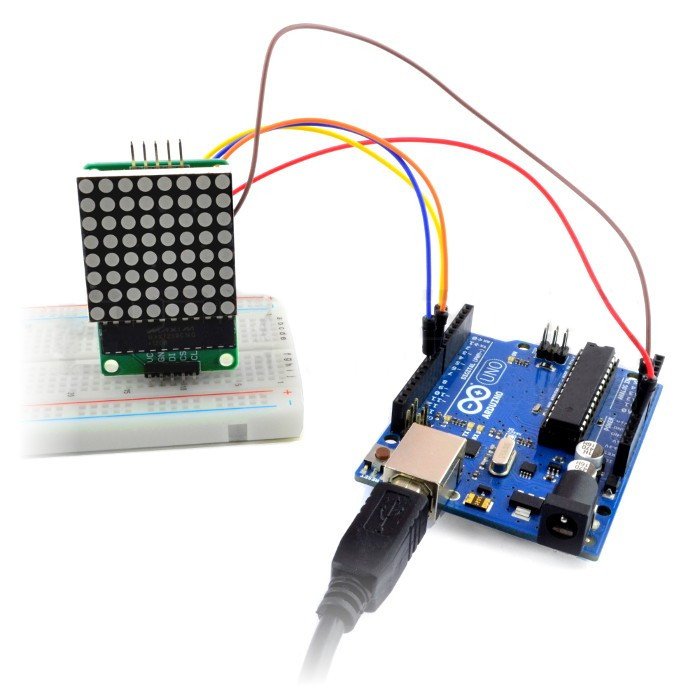 To start the module with Arduino using the library, you must connect: DIN - PIN 12, CLK - PIN 11 CS - PIN 10.
Outputs are popular goldpin connectors (2.54 mm pitch) for connecting the sensor via wires or directly to the breadboard.
Installation
Elements should be placed in marked on the PCB holes and solders. We recommend you to pay attention while mounting the electrolytic capacitor 10 uF, as it polarized. This means that the negative pole (-) should be soldered into the holes marked with the symbol -. In the properly soldered female connectors and in the stand you should place, respectively, the LED matrix and driver MAX7219.