Product description: PyCom PYSENSE2X - extension with sensors for PyCom
An extension forall PyCom network modules.There arefive sensorson the board, suchas light, pressure, humidity, acceleration and temperature sensors. The module is equipped with a USB port with serial access andLi-Pol chargeras well as amicroSD cardslot. The module can be used together with thePybytescloud, to which data from sensors will be sent. The cloud allows you to view parameters from anywhere in the world.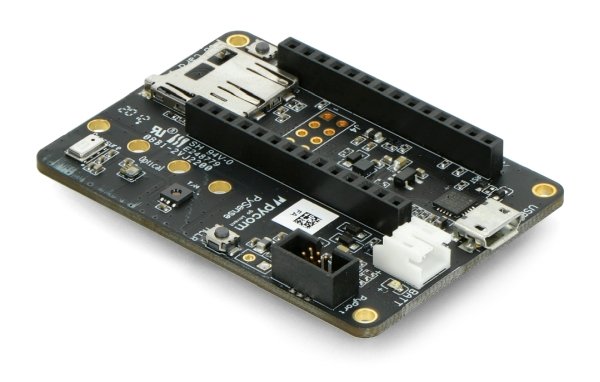 Expansion with sensors for PyCom.
Main features of the PYSENSE2X extension
Seen light sensor LTR-329ALS:
Pressure sensor:

20 kPa to 110 kPa
height: from 698 m to 11775 m

SI7006 temperature and humidity sensor..:

temperature range: -10°C to 85°C
accuracy of temperature measurement: ± 1°C
humidity measurement range: from 0% to 100% RH

3-axis 12-bit LIS2HH12 accelerometer:

measuring range: ±2 g / ±4 g / ± 8 g

USB port with serial access
USB battery charger
MicroSD memory card slot
Very low power consumption (up to 1 uA in sleep mode)
Dimensions: 55 x 35 x 10 mm
Weight: 11 g