Product description: On-Off Switch IRS-201-1A - 250 V AC / 16 A - red
On-Off type switch. The load capacity of the contacts is 250 V AC / 16 A.
Connection
Connectors numbered 1 and 2 represent two pairs of switch contacts. The pairs are separated by a plastic partition.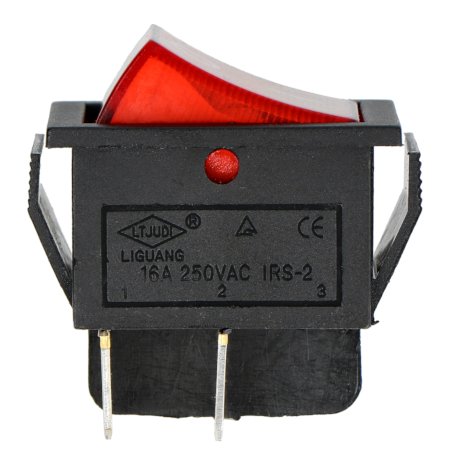 On-Off Switch IRS-201-1A - 250 V AC / 16 A - red.
Specification of the switch
Current-carrying capacity: 250 V AC / 16 A
Number of contacts: 4
Number of positions: 2
Colour of the button: red
Frame dimensions: 25 x 30 mm
ON-OFF switch IRS-201-1A - with red rocker switch
Standard ON-OFF switch - IRS-201-1A, 250 V - 16 A, equipped with four contacts in two positions. The characteristic red colour allows flexible arrangement of the element in the chosen enclosure and comfortable use.
The ON-OFF microswitch is equipped with a rocker button, which is very easy and comfortable to switch. Additionally, the ON-OFF mode marking is printed on the surface in white. The button is not illuminated, but is clearly visible due to the colour scheme.
Proven micro ON-OFF switches in Botland
The glowing ON-OFF microswitch button and sturdy housing make this model an accessory that will work well for many decades. When choosing, check the current ratings and make sure they are appropriate for your device or the electronic project you are undertaking.
When you buy this product, you are assured that you are choosing electronic components of the highest quality. All accessories sold are certified and tested. We invite you to shop!