Attention!
The product has been discontinued. Check other products in category.
Description
The system with the microcontrollerLPC54628ET512 ARM Cortex M4 32-bit220 MHz, is part of the ecosystem of the tilesLPCXpressobased on the free IDE LCPXpresso. The tile was equipped with acapacitive touch display LCD 480 x 272 px, popular interfaces:UARTandSPI,LED diodes,digital microphone,slot for cards SD,accelerometer,codec stereo audio, portsmicro usbandEthernet10/100 Mb/s.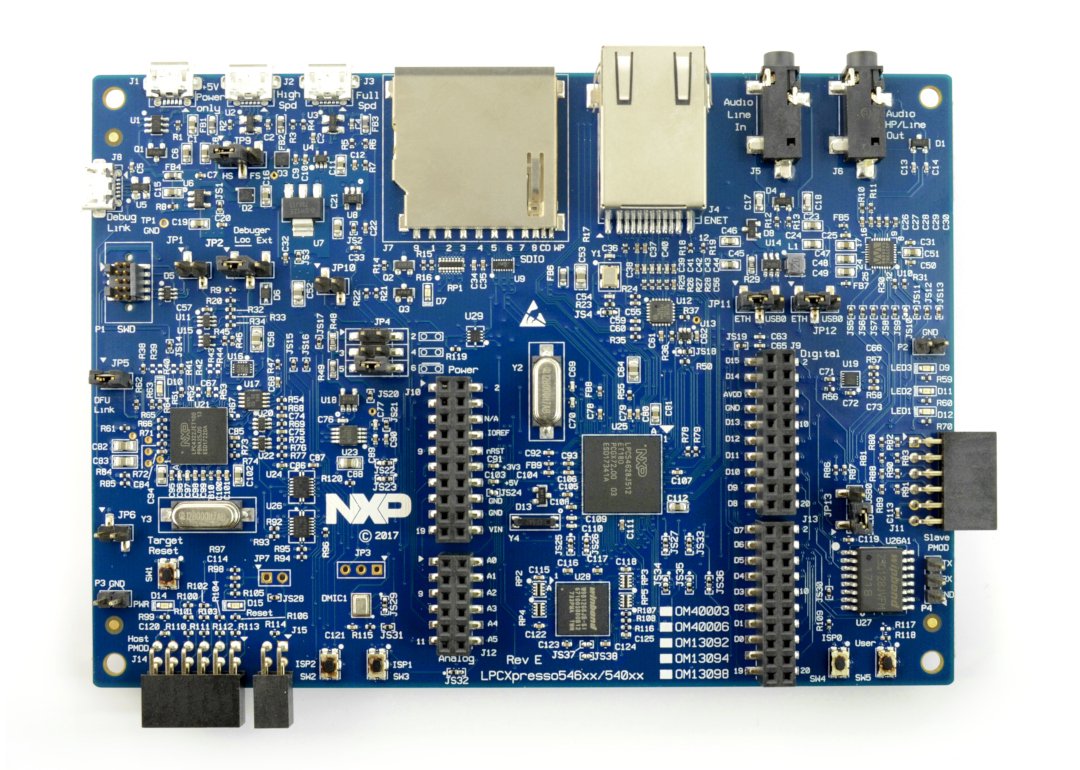 Details about getting started with the module and about programming can be found inthe manualprepared by the manufacturer.
Key features
MicrocontrollerARM Cortex M4 LPC54628220 MHz
Colorful capacitiveLCD display touch 272 x 400 px
High-speed USB, debugging with CMSIS-DAP and with protocol options SEGGER J-Link
Connecting UART and SPI LPC 546xx to USB via debugger on the board
Supports external probes of debugging.
3 x programmable LED, Reset, 3x ISP and programmable buttons
A lot of expansion options, includingArduino UNOand PMod
Built-in electricity consumption meter for MPU LPC546xx
Winbond 128 MB Quad SPI Flash W25Q128JVFIM
Winbond 128 MB W9812G6JB-6I SDRAM
Digital microphone

Knowles SPH0641LM4H

Full sized SD/MMC card slot 
Accelerometer NXP MMA8652FCR1
Codec audio stereo with lines IN / OUT
Ports micro usb A/B for the service of host or device
Ethernet connector-RJ45 10/100 MB/sec
Tile sizes: 145 x 105 mm
Included 4x jumper