Product description: ATOM HUB DIY Proto Board Kit - prototyping kit - for M5Atom development module
The ATOM HUB DIY Proto Board Kit allows you to conveniently prototype your projects using the M5Atom development module. It allows users to build circuits and connect additional peripherals - all according to individual needs and scenarios. The prototyping board is equipped with Grove connector, and the kit also includes VH-3.96mm 4-pin and 3-pin connectors or DC power connector. In addition, the case has been designed in such a way as to facilitate the arrangement of the wiring used.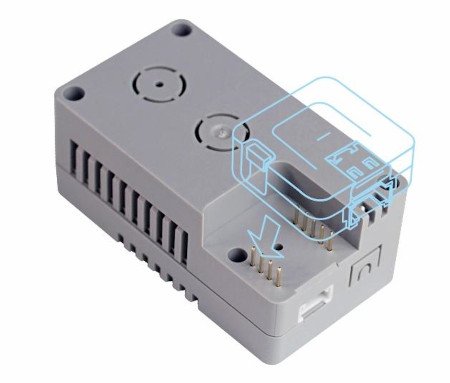 ATOM HUB DIY Proto Board Kit. The M5Atom development module must be purchased separately.
Special features of ATOM HUB DIY Proto Board Kit
Kit compatible with M5Atom Matrix / M5Atom Lite
Compact design
Also suitable for industrial applications
Equipped with a large number of leads and interfaces, which extend the possibilities of prototyping module
The design of the components also includes convenient mounting holes
Working with ATOM HUB DIY Proto Board Kit develops creative DIY and allows you to create your own projects using the module from M5Stack
Suggested use
A board to extend the capabilities of the M5Atom development module
Project component: industrial controller node
Peripheral connection
DIY hardware
Technical specifications of the kit
Pinouts:

VH-3.96 mm 4-pin connector - 1 pcs.
VH-3.96mm 3-pin connector - 6 pcs.
DC 5V power input - 1 pc.
Grove connector - 1 pc.

Housing material: plastic (PC)
Equipped with convenient mounting holes
Space for M5Atom developer module
Housing color: grey
Dimensions of assembled set: 72 x 40 x 30 mm
Weight: 93 g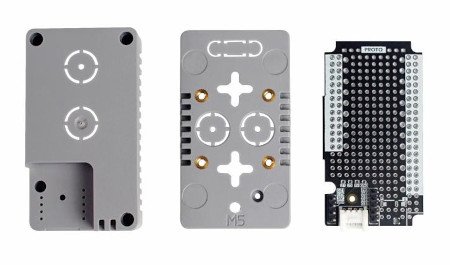 In addition to the prototyping board, the kit includes a two-piece enclosure in gray.
Contents of the kit
Prototyping board with Grove connector
Housing in the form of front and back cover
DIN rail with M4 mounting holes
VH-3.96 mm 4-pin connector - 1 pc. (plug + socket)
Connector VH-3.96 mm 3-pin - 6 pcs. (socket + plug)
Power supply socket DC 5 V
Dust cover - 4 pcs.
Plastic cap for the holes - 2 pcs.
Double-sided magnetic tape - 4 pcs.
Anti-slip rubber feet - 4 pcs.
Cylindrical magnets - 4 pcs.
Self-tapping hexagonal screw M2 x 6 mm - 4 pcs.
Hex head screw M4 x 10 mm - 2 pcs.
Hex head machine screw with hexagon socket M2 x 20 mm - 1 pcs.
Allen wrench M2 and M4