[ID]
Product description: M5Atom Lite - Development module with programmable button - ESP32
Miniature main module withRGB LEDand button. The device's capabilities can be easily expanded with additionalATOMseries modules or Grove compatible sensors. The module is based on theESP32-PICOchip, which also enables communication usingWi-FiandBluetooth. For power supply and programming the device uses theUSB Cport located on the housing.
What is needed to work with M5Atom Lite?
To work with the module you will need a USB cable, which will be used to program and power our device. To power the device we can also useATOM TailBatextensions, which act as a kind of powerbank. For proper communication between the module and the computer you will also needCP210Xdriver, whose installation wasdescribed by the manufacturer. The manufacturer also providesEasy LoaderandM5Burnerprograms using firmware upload to our device.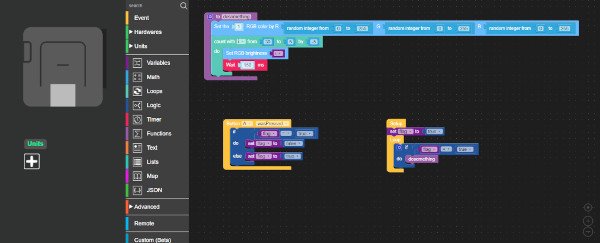 Graphicaldevelopment environmentprepared by the manufacturer.
Application of the module
Thanks to its miniature size, the device can be successfully used inintelligent homesystems and intelligent toys and robots. The process of connecting sensors and extensions to the device is very simple. Grove andGPIOconnectors on the back of the device are used for this purpose. Thanks to the use ofGroveconnectors by the manufacturer we can also use sensors fromGrove system. Working with the device does not require from us knowledge of coding, all functions of the system can be programmed using UIFlow, which is an original,graphical programming languagecreated forM5Stackdevices.


Technical Specification
Controller:

ESP32-PICO,

Flash memory: 4

Power supply: 5 V / 500 mA

Connectors: GPIO, USB C, Grove

Operating temperature: 0°C to 40°C

Dimensions: 24 x 24 x 10 mm

Weight: 3 g
Useful links
Botland blog entry - Welcome to the M5Stack Atom series
9261