Battery description Green Cell HF9 Ni-MH 9 V 250 mAh
High strengthGreen CellHF9nickel-metal hydride battery, with250 mAhcapacity and9 Vvoltage. The battery can operate at temperatures from-20°C to 60°C. Provides longer operating time in comparison with disposable batteries.
Application
The batteries are designed for many devices, such as:torches, bicycle lamps, toys, clocks, radios,scales, cameras, home medical devices, smoke detectors, multimeters. We recommend compatiblechargers for Ni-MH batteries.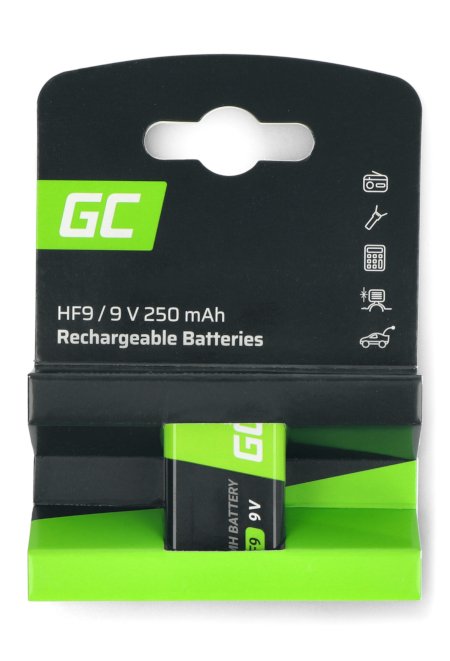 The battery provides a longer operating time compared to disposable batteries.
Specifications Green Cell HF9 Ni-MH 9V 250 mAh Battery
Designations: 9 V / HF9 / R20 / 6HR61 / MN1604 / PP3
Technology: rechargeable nickel-metal hydride / Ni-MH
Recommended charging current: 0.5 A to 1 A
Operating temperature: from -20°C to 60°C
Capacity: 250 mAh
Voltage: 9 V
Dimensions: 26.5 x 48.5 x 17.5 mm
We also offerchargersandaccessoriesfor batteries.