Parameters:
Model: DHT21 / AM2301
Supply voltage: 3.3 V to 5.5 V
Average current consumption: 1.5 mA
Dimensions: 28 x 22 x 5 mm
Temperature

Measurement range: -40 to +80 °C
Resolution: 0.1 °C
Accuracy: +/- 0.5 °C
Response time: about 2 seconds

Humidity:

Measuring range: 0 - 100 % RH
Resolution: 0.1 % RH*
Accuracy ±3% RH* (at 25 °C)
Range of measurement: about 2 seconds
*RH- relative humidity is expressed in percents. Is the ratio of actual humidity in the air to its maximum number that air can keep at a given temperature.
Description
Temperature and humidity sensor in closed plastic case. The system can be controlled using a microcontroller or any commissioning set, for example,Arduino. The leads are wires, on which you can install any connectors or solder the wires directly to the base board. Before using, you need to see thedocumentation.

Example of connection with microcontroller
The scheme represents the simplest way of connecting the system with any microcontroller using the single-wired interface.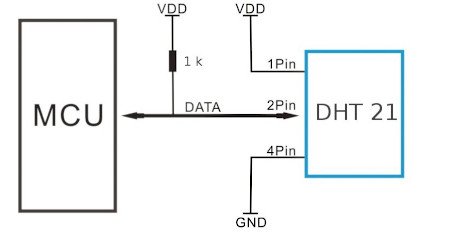 VDD - supply voltage, DATA - data line with lifted resistor 1 k Ohm, GND - chassis ground of system.