Product description: Filament Rosa3D PLA Rainbow 1.75 mm 0.8 kg - Silk Fire
Filament made of biodegradable PLA biopolymer . The spool contains a multi-colored line, the colors of which smoothly change into fiery shades of deep red, luminous orange, yellow and golden tones. One spool with a net weight of 800 g can contain 4 full cycles of such a transition - one cycle takes 200 g of filament. Thanks to the use of a material blend, PLA Rainbow has a shiny finish. The material is characterized by great ease of printing while maintaining high detail of formed 3D models. It does not emit an unpleasant odor during melting. The filament diameter is 1.75 mm . The weight of the material on the spools is 0.80 kg . Insert for 3D printers working in FFF / FDM technology.
The frequency and sequence of color transitions is fixed for a given production series. Therefore, a single spool may start at any point in the process, e.g. one spool may start gold and another spool red. Shade differences are allowed.
Instructions for importing material profiles to Cura Slicer .
For selected materials from our offer, we offer ready-made profiles for the Cura program , which allow you to use the filament immediately and without any configuration. For this purpose, we import a file dedicated to a specific model.

Filaments used in 3D printing .
Additional information about PLA
Perfect choice for beginners
Environmentally safe product, made of biodegradable biopolymer
Good adhesion between layers
High accuracy and detail of the printed detail
The filament is made of ingredients that are not approved for contact with food
The filament can be used in 3D prints not equipped with heated work tables. If adhesion problems are noted, use an adhesion promoter
Suggested filament printing parameters
| | |
| --- | --- |
| Head temperature | 195 ° C to 225 ° C |
| Table temperature | From 40 ° C to 60 ° C |
| Cooling the print | 20% to 100% |
| Recommended print speed | From 60 mm / sec to 80 mm / sec |
Due to the differences in the design of printers, the above data should be treated as guidelines, and the appropriate values should be determined experimentally.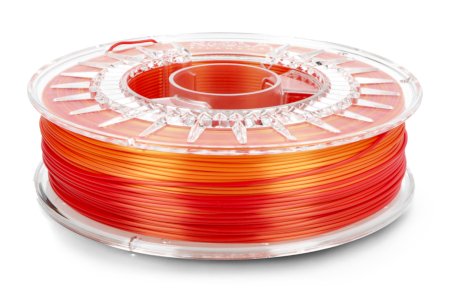 Filament Rosa3D PLA Rainbow 1.75 mm 0.8 kg - Silk Fire.
Technical specification of the PLA Rainbow filament
| Parameter | Range |
| --- | --- |
| Filament diameter | 1.75 mm |
| Colour | Silk Fire (fiery) |
| Density | 1.25 g / cm 3 |
| Smell | odorless |
| Spool - material | biodegradable biopolymer (PLA) |
| Color cycle transition | every 200 g |
| Spool diameter | 200 mm |
| Spool width | 55 mm |
| Mounting hole diameter | 52 mm |
| Vacuum packing | Yes |
| Desiccant | Yes |
| Product weight | 800 g net |