Description
The module with TCS3200D sensor allows the measurement of the color (RGB - Red, Green, Blue), the output of which is frequency dependent on the intensity of light of the selected color. It is supported by any commissioning set with a microcontroller equipped with a counter, for example, STM32Discovery or Arduino.
Specification
Power supply voltage: 2.7 V to 5.5 V
Programmable color selection
Programmable output frequency:

500 - 600 kHz
100 - 120 kHz
10 - 12 kHz

Error of non-linearity at the level of 0.2% at 50 kHz
Pins: goldpin
Simple connection with a microcontroller (frequency readings)
Built-in 4 LEDs illuminating the studied object 
Dimensions: 32 x 25 mm
Details in the documentation.
The product is compatible with Arduino
Check how to connect the sensor to the Arduino in our guide.
In the network are examples of projects together with the code for the Arduino users, for example, color detector.
Service and output
The module is powered with the voltage in the range of 2.7 V to 5.5 V, thanks to it, it is reliable in the systems of 3.3 V and 5 V. The sensor can be connected to any commissioning set with a microcontroller that has a timer with the frequency input, for example, STM32Discovery or Arduino.
The output is a signal with a frequency that depends on the light intensity of the color selected by the pins S2 and S3.
Detailed description of the pins is available in the arrays in the further part of the description. Pins are the popular goldpin connectors, allowing for the connection of the sensor with the main module using the connecting cables.
Description of pins of the module with the sensor TCS320
| | |
| --- | --- |
| Name | Description |
| VCC | Supply voltage from 2.7 V to 5.5 V. |
| GND | The potential of the ground of the system. |
| ŌĒ | The activation of the frequency output OUT. The pin is put on by low status. |
| OUT | Frequency output. |
| S0, S1 | Inputs for scaling the output frequency. The description is below. |
| S2, S3 | Inputs to select the type of photodiode. The description is below. |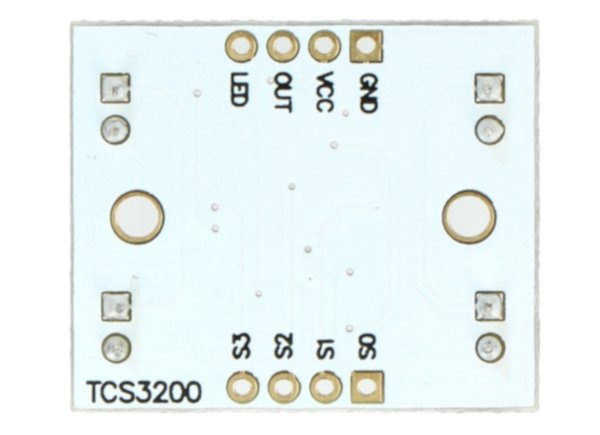 Module's pins with sensor TCS320.
Setting
Using the configuration inputs S0 and S1, selected is prescaler (divider) of the output frequency signal thanks to which we can adjust the frequency range for the used microcontroller. Inputs S2 and S3 are used to select the type of measuring photodiode: red, green, blue or clear options, that is without filtering (all RGB components will be measured simultaneously).
Selection of divider of the output frequency
S0

S1

Scale of output frequency
in relation to fo

L

 
The sensor is disconnected

L

H

2 %

10-12 kHz

H

L

20 %

100-120 kHz

H

H
100 %
500-600 kHz
Selecting the type of photodiode (of filtration)
S2

S3

Type of photodiode

L

L
red (R)

L

H
blue (B)

H

L
clear (RGB)
(unfiltered)

H

H
green (G)
L (Low) - low status
H (High) - high status