Product description: D24V90F5 - 5 V 9 A step-down converter
DC-DC pulse regulator converts the input voltage from 5 V to 38 V to an output value of 5 V. It allows for current consumption up to 9 A. The circuit is characterized by high efficiency of 80 % - 95 %. By means of ENABLE pin, module can be put into sleep mode, in which it consumes only up to 20 uA for each volt of supply voltage. In our offer is also available low-power version, which allows to draw up to 6 A. Since both boards are very similar, the manufacturer has left a place on the back where you can mark the circuit with a marker.
Specification of the Pololu D24V90F5 5V 9A step-down converter
Input voltage: from 5 V to 38 V
Output voltage: 5 V (+/- 4 %)
Output voltage accuracy: 4 %
Maximum output current: 9 A
Sleep mode current consumption 10 uA - 20 uA per 1 V input voltage
Switching frequency: 470 kHz
Built-in protections:

against excessive current consumption
Over temperature up to 160 °C
Undervoltage, the circuit will not switch on if the supply voltage is lower than 4.2 V
soft-start

Dimensions: 40.6 x 20.3 x 7.6 mm
Four mounting holes for M2 screws
Weight: 5 g (without connectors)
Inverter pinouts
The module has four pinouts:
VIN - input voltage from 5 V to 38 V.
GND - ground potential.
VOUT - output voltage of 5 V.
ENABLE - giving a low state switches the system into low power mode where it consumes only 10 uA - 20 uA for every volt of supply voltage. The pin is pulled up to VIN by default through a 100 kΩ resistor. If low-power mode will not be used ENABLE can be left unconnected.
FB - soldering a resistor between FB pin and VOUT lowers the output voltage. Details in the further part of this description.
PG - "power good" indicator. The open drain pin goes low when the output voltage drops below 90% of the set value (i.e. below 4.5V for 5V).
You can solder popular goldpin strips with 2,54 mm pinout or ARK screw sockets to the holes. Both types of connectors are included in the set. The module can be plugged into contact board, connected with wires or placed in dedicated PCB.

Reducing the output voltage
The converter has an option of lowering the output voltage. To do this, solder a resistor between leads FB and VOUT. Its value can be calculated using the formula. For example, to obtain 3.3 V output, solder a 23.7 kΩ resistor. The output value must not be lower than 0.8 V.
Efficiency and output current
Efficiency is defined as the ratio of output power to input power (Power out)/(Power in). It is very important parameter in case of work with portable sources of energy (batteries and accumulators), where working time on one charging cycle counts. The dependence of the efficiency on the input voltage is given in the diagrams below.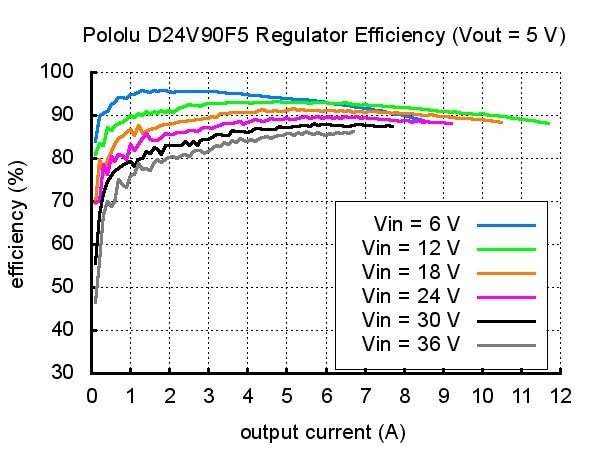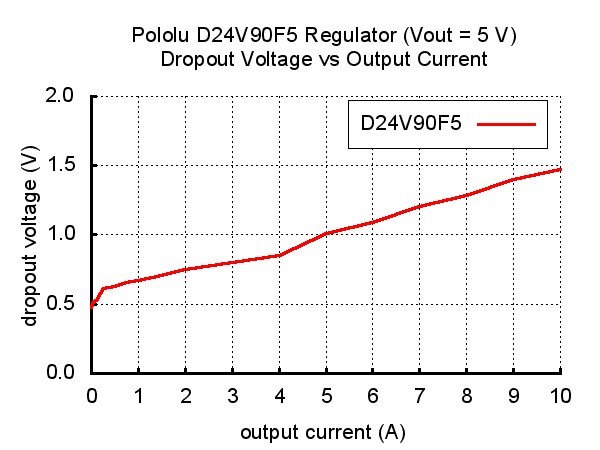 Drop-out voltage
The graph below shows the dependence of the drop-out voltage on the value of the output current. For example, for a 5 A current draw, the output voltage must be 1 V higher than the input value.
Switching frequency
The circuit operates at a frequency of about 470 kHz, however, at low power consumption this value drops creating a small output voltage deviation. This relationship is shown in the graph below.