Product description: BBMagic BBAir - Precision sensor for smog / dust / air purity PM1 / PM2.5 / PM10, temperature and humidity - DIY kit.
Mobile air quality sensor equipped withthe PMS7003 module, measuring thePM1, PM2.5andPM10dusts with a precision of 1 ug/m3.Additionally, the sensor is equipped witha SHT20 sensorthat measures temperature and humidity. The device communicates via the built-in bluetooth BLE module. The module can be powered by the microUSB connector (priority) andAAA battery. Information on air quality is in accordance with themedical criteria of the International Health Organization (WHO).
Harmfulness of smog to health
Smog is a mixture of chemical compounds and dusts which, combined with high humidity, pose a health hazard. For more information on the harmfulness of smog, what it is and the standards that apply to it, please visitthe BBAir sensor manufacturer's website.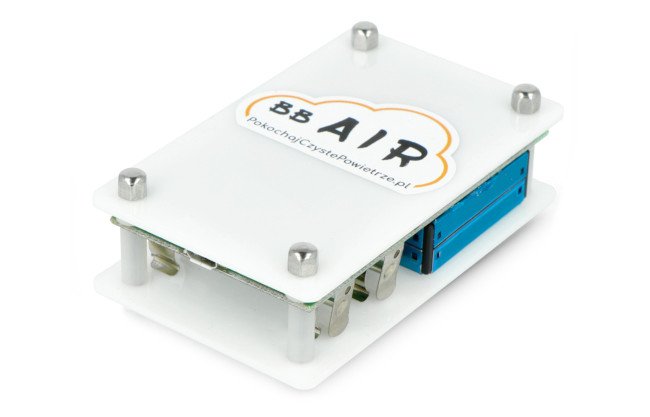 Precision Smog Sensor - BBAirr.
BBMagic BBAir application to operate smog / dust / air purity sensor PM1 / PM2.5 / PM10, temperature and humidity
The manufacturer has preparedBBAirapps for smartphones using the Android system allowing to read data from the sensor in real time. Below are examples of markings in the application for PM10 dust concentration.
| PM10 | Graphics | Comment |
| --- | --- | --- |
| 0 to 20 | | Within the recommended WHO annual average. |
| 21 to 50 | | Within the limits of the WHO average daily acceptable level. |
| 51 to 140 | | WHO daily average acceptable level exceeded. |
| 141 to 200 | | The WHO daily average level has been greatly exceeded. |
| 201 to 300 | | The level of information established in Poland has been exceeded. Limit activity in the polluted zone. |
| over 300 | | The alarm level established in Poland has been exceeded. Leave the polluted air zone. |
Specification BBMagic BBAir - Precision smog / dust / air purity sensor PM1 / PM2.5 / PM10, temperature and humidity - DIY kit
Dust sensor: PMS7003

Precision measurement:

1 ug/m3

Operating temperature: -10 °C to 60 °C

Temperature and humidity sensor: SHT20

The temperature:

Measurement: from -40 °C to 125 °C
Precision: 0,01 °C

Moisture:

Measurement: 0% to 100% RH
Precision: 1% RH

Measurement indication: LED
Protection against incorrect installation of batteries
Android application:BBAir
Connectivity: Bluetooth Smart, Bluetooth 4 BLE
Dimensions: 88 x 54 x 30 mm
Weight: 70 g
The set includes
Sensor module
Case
Mounting screws