Product description: Proximity sensor HSDL-9100-021 60mm
The sensor can detect objects in the range from 0 to 60 mm. High sensitivity of LED, allows to keep the SNR ratio (signal-to-noise) at a good level. Due to the small dimensions, the sensor is readily used in cell phones, laptops, and mobile robots.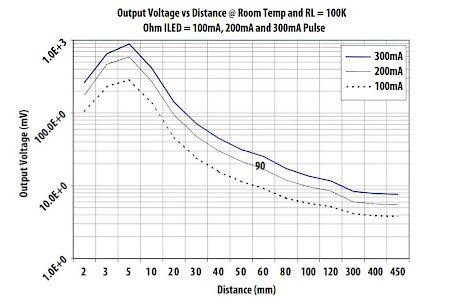 A graph is showing the dependence of the output voltage to the distance of the measured surface.
Specification of proximity sensor
Measuring range: 0 - 60 mm
Maximum voltage Vf: 1,65 V
Maximum current of emitter: 100 mA
Output: voltage-analog signal
Case: soldered subaerially SMD
Operating temperature: -40 °C to 85 °C
Dimensions: 2.4 x 2.75 x 7.1 mm
Weight : 0.15 g
Details inthe documentation.