Product description: LED lamp ML9000B underside with a touch switch and remote control
Roundlampwith five LEDs. It hasa touch switch locatedin the middle of the light panel. Aremote controlis attached to the lamp, allowing you to remotely switch on the lighting and select one of two levels of brightness. In addition, a 30-minute, uninterrupted function is available. The lamp is mounted to the surface using double-sided tape. Its compact size andbattery power supplyenable installation even in hard-to-reach places.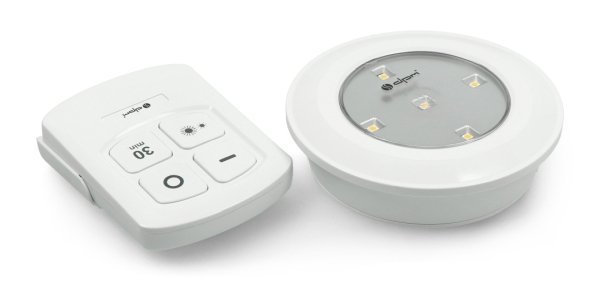 LED lamp ML9000B under-cover lamp with touch switch and remote control.
LED lamp specification ML9000B
Rated power: 0.3 W
Light colour: 3000 K (warm white)
Luminous flux: 10 lm or 30 lm (one of two modes to choose from)
Color rendering index: Ra above 60
Degree of protection: IP20
Lifetime: up to 25 000 hours
Remote control range: up to 8 m
Frequency of transmission: 2.4 GHz
Colour: white
Power supply:
Lamp dimensions:

Diameter: 95 mm
Height: 26 mm
Set contents
LED lamp ML9000B - 1 piece.
Remote control - 1 pc.
Handle for fixing the remote control - 1 pc.
Double-sided mounting tape - 2 pcs.
Attention!
Batteries are not included. They can be purchasedseparately.