Product description: BleBox ActionBox - multifunctional trigger of WiFi actions - Android/iOS application.
A small
230 V
power supply module that allows you to control other
BleBox
controllers using physical
buttons
. It communicates via the home
WiFi
network with the other
BleBox controll
ers. The small dimensions allow it to be closed in a flush-mounted box. It allows you to perform
up to 30 actions
, from one place you can wirelessly control selected devices. Equipped with 4 channels, so you can use 4-key buttons. You can connect to the module:
four-button
two double buttons
triple and single button
four single buttons
The module can be mounted in any location. If it is installed in a rare room, it can be controlled via the wBox application, available forAndroidandiOS
devices.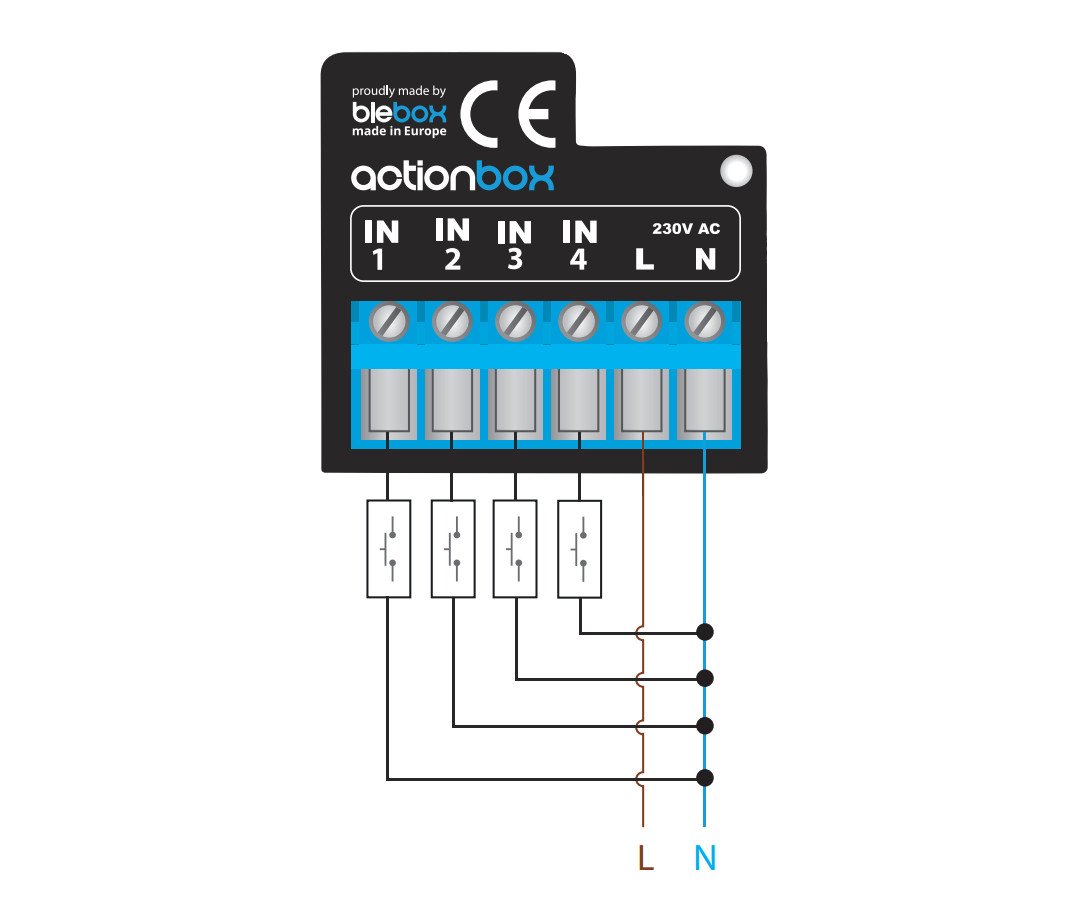 Wiring diagram.
Wiring diagram of the BleBox ActionBox Trigger
Before installing the module, disconnect the voltage in the powered circuit to which the ActionBox will be connected. The controller should be mounted in a place protected against external conditions.
The module hasscrew terminalsto which the cables must be connected using a screwdriver.
IN1-IN4- connectors for connecting buttons.
L- supply voltage, phase wire.
N- supply voltage, neutral wire.
Trigger configuration of the BleBox ActionBox
In order to configure ActionBox module you need to connect to wireless network called "actionBox-xxxxxxxxxx", where "xxxxxxxx" is the serial number of the device, then you need to download wBox application from Play or AppStore store. After starting the application, a new device will be visible. Next to the name you will see a "+" sign, in order to configure the device, click on the default device name.
The device can also be configured via the website. To do this, enter the IP address of the module that has been assigned by the DHCP server, e.g. 192.168.1.123 in the address field.
Trigger specifications of the BleBox ActionBox
Specification
Supply voltage
230 V AC
Energy consumption
up to 1 W
Number of entrances
4
Type of inputs
logical, push-button, short-circuit to N, configurable
Number of buttons
It is possible to connect buttons in different configurations: 4 single buttons or 1 four-way button, monostable, bistable, crossed, without illumination
Maximum input voltage
230 V AC
Communication
μWiFi, WiFi compatible, 802.11g
Frequency of transmission
2.4 GHz
Encryption
WPA2-PSK, and encryption authentication (AEAD)
Installation
in the box, in the wall, inside another device's housing
Case
made of polyurethane composition without halogens, self-extinguishing thermal class B (130°C)
API
open
Degree of protection
IP20
Operating temperature
from -10°C to 40°C
Control
Android devices, Apple, computers and other devices supporting HTML5
Dimensions
36 x 34 x 20 mm