Product description: BleBox actionBoxS - multifunctional WiFi action trigger - Android / iOS application
A smaller version of the BleBox actionBox module equipped with one input . The BleBox actionBox SW controller, after receiving a signal from another sensor, e.g. motion, flood or smoke, allows you to send a notification to the user's phone or trigger another WiFi controller , e.g. switchBox , which will turn on the light or fan. The ActionBoxS W can also be used as a central button that will, for example, cover all roller shutters in the apartment. The controller supports monostable (bell) or traditional bistable buttons. The user gets the possibility to configure up to 30 control actions and notifications. This version comes with three cables , ready for installation. The small dimensions of the device of 39 x 25 x 24 mm allow it to be used as an "implant" in existing devices, eg a motion sensor.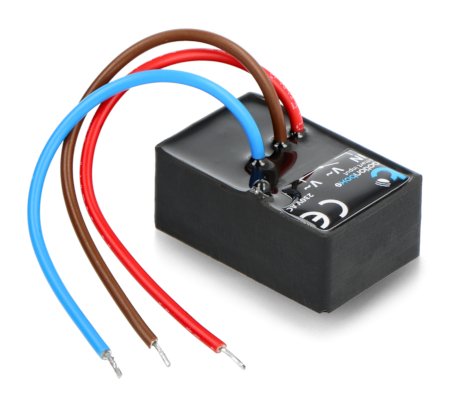 Action trigger module - BleBox actionBoxS W (Wired), version with wires.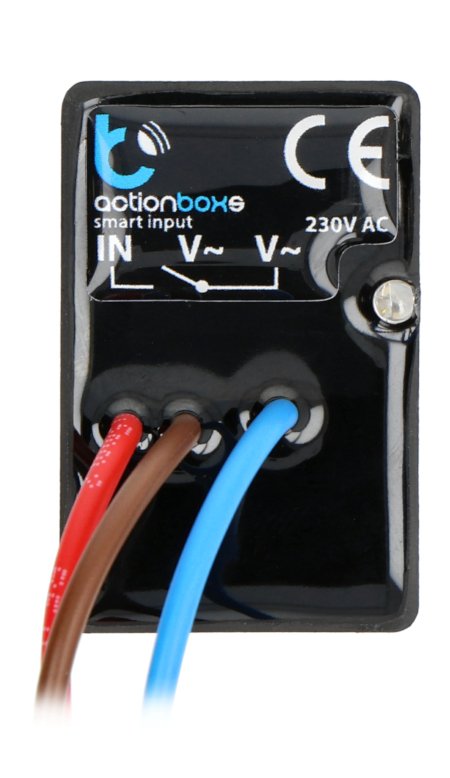 BleBox actionBoxS W - module with miniature dimensions, equipped with wires with removed insulation.
Main features of BleBox actionBoxS W
Wireless control of other BleBox controllers via WiFi network
Up to 30 actions and notifications can be configured
Powered with 230 V, it allows you to use any signal as an action (button, PIR motion sensor)
The miniature design allows you to hide the device, e.g. in a small box or in the housing of another device, e.g. a motion sensor
The offer also includes the BleBox actionBox S controller in a version with screw connections.
Connection diagram BleBox actionBoxS W
Before installing the controller, remember to disconnect the voltage in the powered circuit to which the actionBoxS W controller will be connected. The device should be installed in a place protected against external conditions and access by third parties.
The module has leads in the form of wires with removed insulation.
IN - connectors for connecting a button or other trigger.
V ~ - supply voltage, phase or neutral wire.
V ~ - supply voltage, phase or neutral wire.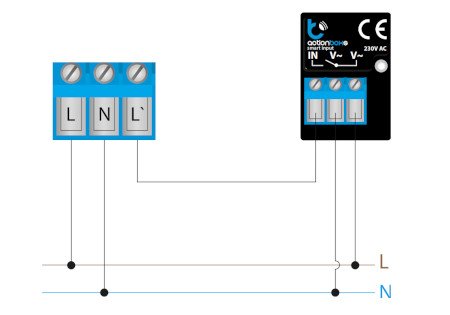 Connection example actionBoxS W with PIR motion sensor.
BleBox actionBoxS specification
Supply voltage
230 V AC
Energy consumption
up to 1 W.
Number of inputs
1
Input type
logical, push-button, short-circuited to N, configurable
Supported buttons
monostable (bell), bistable (traditional, cross) - without backlight
Input voltage
230 V AC
Communication
μWiFi, compatible with WiFi, 802.11g
Transmission frequency
2.4 GHz
Encryption
WPA2-PSK, and encryption authentication (AEAD)
Installation
in a box, in the wall, inside the casing of another device
Case
made of polyurethane composition without halogen, self-extinguishing thermal class B (130 ° C)
API
Open
Level of security
IP20
Working temperature
-10 ° C to 40 ° C
Control
Android, Apple, computers and other devices supporting HTML5
Dimensions
39 x 25 x 19 mm
‌