Description
Starter set introducting to the world of Arduino. Allows the construction of 15 projects with instruction that shows you how to implement ideas into practice, using an Arduino Board. The set includes the following: temperature sensor, photoresistor, LCD display, motor, servo, LEDs and many more. Set provides the knowledge and develops creativity.
Each item is packed separately, all in a tasteful box.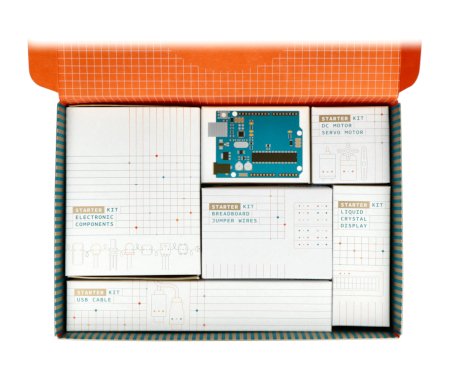 Immediately after the opening, we see the full user manual - the book has a volume of 172 pages in English. It describes all the elements of a set and its main part includes 15 simple projects created using Arduino. The list of projects looks like the following:
Get to know your tools: the presentation of simple elements. The user creates the first layout, consisting of buttons, a LED and resistor.
Spaceship interface: project of the control panel for a space ship.
Love-O-Meter: measures how "hot" you are.
Color Mixing Lamp: a type of lighting device that changes color depending on the intensity of ambient light.
Mood Cue: shows your mood.
Light theremin: a simple musical instrument that plays when you wave your hand.
Keyboard Instrument: the project of a simple music keyboard.
Digital Hourglass: the design of the clock that warns about overworking.
Motorized Pinwheel: project of colourful windmill, which will spin your head.
Zoetrope: mechanical animation that can be played forwards and backwards.
Crystal Ball: crystal ball design to tell the future.
Knock Lock: the lock opened with appropriate combinations of "knocks".
Touchy-Feely Lamp: a lamp that responds to touch.
Tweak the Arduino Logo: control your PC using the Arduino board.
Hacking Buttons: control key for other devices.
Each of these projects introducing the user further to the world of Arduino. Projects are very detailed. It all starts with the definition of difficulty level, estimated time of execution and the required elements. Thef description provides the wiring diagrams and programme code, and exact description of which one of its parts is responsible for what.
The set
Complete Arduino Starter Kit contains:
L. p.
Photo
Description
1
Book with Arduino projects: 172 pages in English
2
Arduino Uno Rev. 3: the latest Arduino Uno is required to implement the above projects
3
USB cable A-B: needed to connect the Arduino to the computer and programming
4
Breadboard 400 holes
5
Mounting plate for the Arduinoand a breadboard.
6
Clip on the battery 9 V.
7
70 jumpers to the breadboard of different sizes.
8
Male-male wires - 2 PCs.
9
Photoresistors VT90N2 LDR- 6 PCs.
10
Rotary potentiometers 10 kOh[ID]m3 - PC.
11
Button of tact switch THT type- 10.
13
Temperature sensor TMP36.
14
Tilt / vibration sensor.
15
LCD display 16x2- blue with soldered pins.
16
Led- bright white.
17
Led RGB- multicolor.
18
 LEDsin the colors - red, green and yellow - 8 PCs.
19
Blue LEDs- 3 PCs.
20
 A small DC motoris supplied with the voltage 6 - 9.
21
 Servomechanism, type micro.
22
Buzzer piezzoPKM17EPP-4001-B0.
23
The driver of a DC motor- H bridge L293DNE.
24
Optical insulators- 2 PCs.
25
Transistors BC547 - 5 PCs.
26
Transistors MOSFET IRF520- 2 PCs.
27
Capacitors:

5 capacitors 100 NF,
3 capacitors 100 UF,
5 capacitors 100pF.

28
Diodes 1N4007- 5 PCs.
29
The gel transparent spacers (red, green, and blue) - 3 EA.
30

Goldpin strip - 40x1 male.
31

Resistors:

20 resistors 220 Ohm
5 resistors 560 Ohm
5 resistors 1 kOhm
5 resistors 4.7 kOhm
20 resistors 10 kOhms
5 resistors 1 Megohm
5 resistors 10 Megohm

32
Cardboard elements that are required in some projects.