Description: Grove - 4-channel gas sensor - Seeedstudio 101020820.
Plate with four independent gas sensors: GM-102B, GM-302B, GM-502B, GM-702B, whichcan detect various gases such as carbon monoxide, nitrogen dioxide, ethyl alcohol, organic volatile compounds, etc. The sensors used are based on MEMS technology and communicate through the I2C interface. The module is powered from 3.3 V to 5 V.The used Grove connector facilitates the connection to theBase Shieldcover.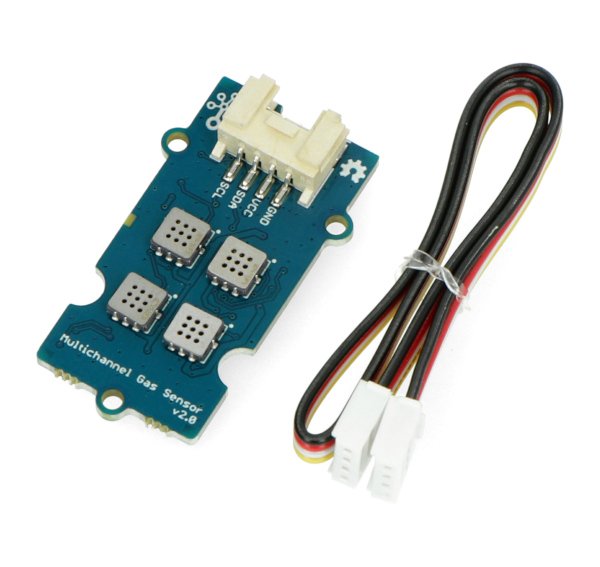 Gas sensor with Grove cable.
Connecting the gas sensor module
The module communicates through the I2C interface. Grove connector makes it easy to connect the module with BaseShield.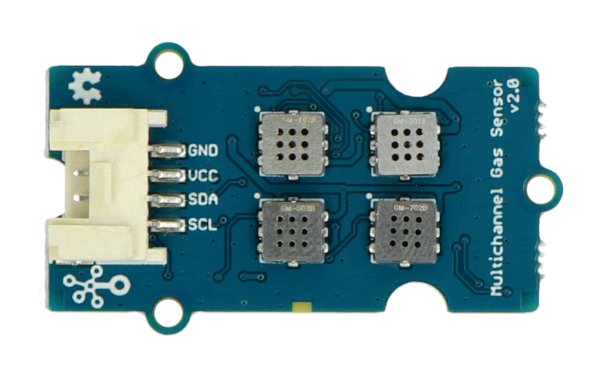 | Pin | Description |
| --- | --- |
| GND | The weight of the system. |
| VCC | Supply voltage from 3.3 V to 5 V. |
| SDA | I2C bus data line. |
| SCL | I2C bus clock line. |
Gas sensor specifications
Supply voltage: 3.3 V to 5 V
Interface: I2C
I2C interface address: 0x55
Sensors used: GM-102B, GM-302B, GM-502B, GM-702B
The deal: STM32F030
Dimensions: 42 x 24 mm
The set includes
Grove gas sensor
Grove cable