Product description: LTR390 - UV light sensor - STEMMA QT / Qwiic - for Arduino and Raspberry Pi - Adafruit 4831
A product of Adafruit company in a form ofUV ultravioletlight sensorequipped withLTR390chip. Measurement range for ALS isfrom 500 nm to 600nm and for UVAfrom 300 nm to 350nm. The sensor is compatible with Arduino and Raspberry Pi, dedicated libraries are available on the manufacturer's website. Powered from 3 V to 5 V, it uses the I2C bus to communicate with the controller module.
Sensor pinout description from Adafruit
The UV ultraviolet light sensor can be connected in two ways. The first one uses solder fields to which a 2.54 mmgoldpinstrip (included in the kit) should be soldered. Alternatively, the sensor also has aSTEMMA QT /Qwiicconnector, which allows you to quickly and conveniently connect the module without soldering.
VIN- power supply pin with voltage range from 3 V to 5 V DC.
3Vo- supply pin with voltage 3,3 V.
GND- system ground.
SCL- I2C logic pin, communication interface clock line pin.
SDA- I2C logic pin, communication interface data line pin.
INT- main interrupt pin, can be configured according to individual needs.
Technical specification of ultraviolet UV light sensor
Circuit: LTR390
Measurement range:

ALS: 500 nm to 600 nm
UVA: 300 nm to 350 nm

Supply voltage: 3 V to 5 V DC
Communication interface: I2C
Interface address: 0x53
Set contents
UV light sensor
Goldpin strip - 2.54 mm pitch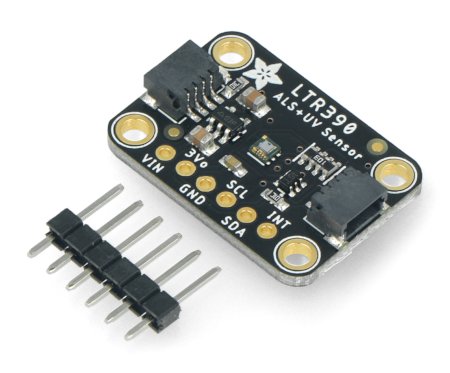 The kit also includes a 2.54 mm raster godpin strip, which should be soldered to the sensor's solder fields.