Kit contains
1 x Main board with Atmega32u4 microcontroller - compatible with Arduino

1 x Sensor strip

1 x Chassis (without motors)
1 x Metal plough
1 x Buzzer
2 x Magnetic caps for the encoders built into the main circuit board
Set of accessories required for assembly
Product description: Pololu Zumo 32u4 - Minisumo robot with A-Star controller - Arduino compatible KIT
A set of components for building a minisumo fighting robot based on an Arduino controller. The kit includes: main board with ATmega32u4 controller known from Arduino Leonardo, chassis with caterpillars, set of sensors and plough - bumper for fighting with other robots. To operate the robot you will also need: a pair of micro motors and four AA batteries.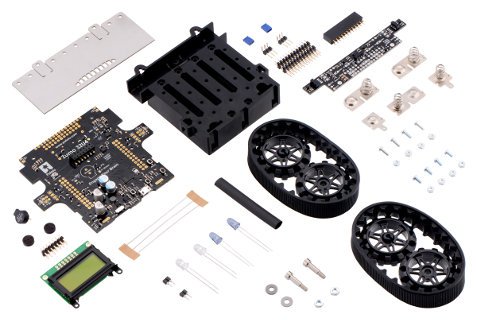 Motors are not included in the set. They can be purchased separately with a selected gear ratio, e.g. 50:1 HP version. Note that motors with double-sided shafts are required for this version of the Zumo.
Main circuit board
Controller equipped with ATmega32u4 chip also used in Pololu A-Star boards. Programming is done using microUSB cable through Arduino IDE environment. Apart from microcontroller, module features: dual channel motor controller, voltage regulator, distance sensors and 3-axis accelerometer and gyroscope.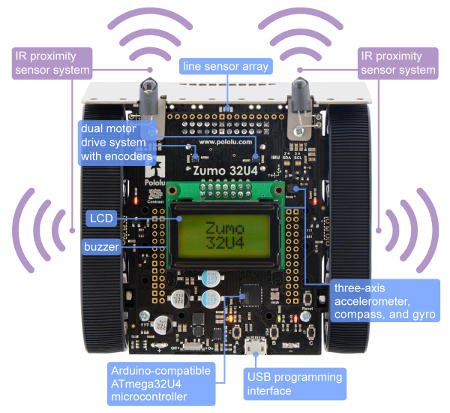 Chassis
A set of mechanical parts to build a minisumo class robot chassis. The kit includes: tracks, battery cage and mounting plate. A detailed description of the mechanical parts can be found at this link.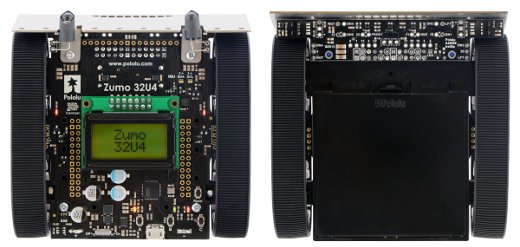 Plough
The set also includes a metal plough - a bumper to fight other robots. Detailed description can be found at this address.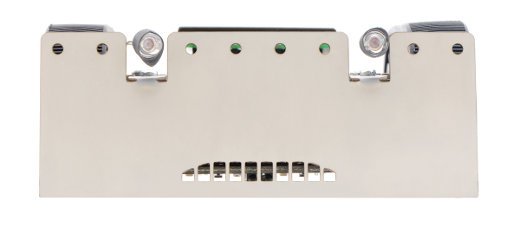 Reflective sensor strip
The set includes a strip with reflection sensors to detect the edges of the ring. Thanks to it, robot knows when to avoid being pushed out of the designated zone.

Dimensions
The Zumo robot has been designed so that the outline of the assembled structure fits into a 10 x 10 cm square, which is in accordance with the international rules of robot fighting.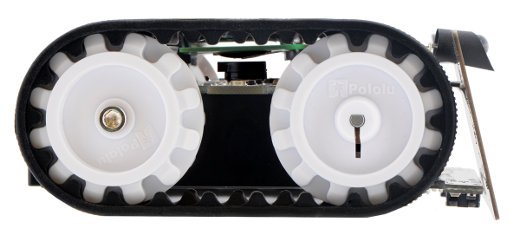 Required components
The following components are not included in the kit in order to leave the choice to the constructor. The builder can adjust the parameters of the motors to his own needs or use the NiMh batteries.
Two Pololu micro series motors
Pololu makes available a whole series of micro series geared motors. They differ in power and gear ratio used. The most popular among fighting robot builders are the HighPower versions with 30:1 and 50:1 gear ratios. The table below shows sample performance.
Motor
RPM
6V

Torque

6V

Current max.

6V

Zumo speed max.
6V and 500g
100:1 HP
320 RPM
2.16 kg*cm
1600 mA
0.50 m/s
50 cm/s
75:1 HP
400 RPM
1.58 kg*cm
1600 mA
0.65 m/s
65 cm/s
50:1 HP
625 RPM
1.08 kg*cm
1600 mA
1.00 m/s

100 cm/s
This version of the Zumo requires motors with double-sided shafts.
Four AA alkaline batteries (big sticks) are required to power the robot. We recommend using NiMH batteries as they are rechargeable.
Zumo 32u4 - Minisumo robot with A-Star controller - Arduino compatible KIT - Pololu 3124
We offer a great set of components needed to build a minisumo robot. It is a great tool for learning electronics and robotics on your own. The device is based on module using ATmega32u4 microcontroller (known from Arduino Leonardo).
The product is a set coming from a popular company - Pololu. It is a well-known brand associated with high quality devices, which produces, among others, parts for robots, motors and electronic circuits (for example, motor controllers).
Minisumo robot from Pololu
It is worth remembering that for the offered set you need to buy two suitable DC motors - so that the user can independently choose a version with the appropriate gear ratio. All other components are included in the kit. The robot can be easily programmed using compatible Arduino IDE environment.
In our offer you will find more similar devices compatible with Arduino boards. We also offer devices without module such, such as Arduino Leonardo or Arduino Uno and a number of overlays and other accessories.