Description
The Raspberry Pi device was developed as alternative for large and expensive desktop computers. In situations when there's no need to use the high computing power, and the requirements introduced to the equipment are the compact size and low power consumption, the raspberry will work great. This miniature computer has a performance at level of a Pentium II, but for normal work enough is only a screen (monitor or TV), memory card, phone charger and computer keyboard. In the case of using graphic mode, you should also connect a mouse.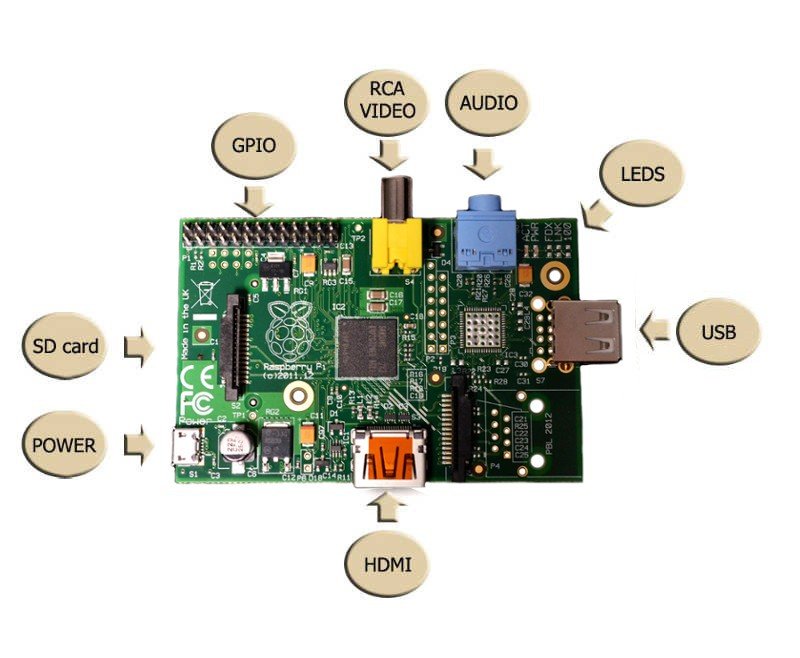 Raspberry Pi
Model A



Raspberry Pi
Model B


Processor
ARM1176JZF-S, 700MHz
RAM
256 MB
512 MB
The outputs of the video
RCA, HDMI
Audio outputs
3.5 mm jack, HDMI
USB ports
1 x USB
2 x USB
Data carrier
connector of SD / MMC / SDIO cards 
Network connections
no
10/100 Ethernet (RJ45)
Other connectors
8 x GPIO, UART, I2C, SPI, +3.3 V, +5 V
Power
500 mA (2.5 W)
microUSB

700 mA (3.5 W)
micro USB
Image
Built-in Jack HDMI allows you to directly connect a TV or monitor, and broadcast in the resolution of Full HD (1080p). In the absence of HDMI, the user has at his or her disposal, connector RCA (popular Chinch).

Sound
Audio transmission is via connector Jack of 3.5 mm that is used in the popular speakers and headphones. Sound can also be transmitted through cable HDMI, if the TV or monitor is equipped with speakers.
Data carrier
The creators of Rasbpery PI resigned from the hard drive. Its role took on a much lighter, less emergency SD memory card. With this solution, the computer is lightweight and consumes much less energy. Through the card, installed is the operating system, in addition, it serves as a place to store data.
Communication
Version A has one USB connector to which you can connect, for example, a mouse, keyboard or USB flash drive. If you find that the slots are too short, you can increase their number using an external Hub. In our offer, we have also version B that has two USB connectors and Ethernet pin, and wireless network USB card, thanks to which Raspberry can connect to a wi-fi network.
In addition, the system was equipped in interfaces that are typical for systems based on microcontrollers:
GPIO - outputs/inputs with general purpose, they can be used to operate LEDs, buttons, drivers of engines
the I2C bus - it allows communication with various sensors (e.g. of temperature or acceleration)
SPI - it allows you to connect quick converters analog-to-digital and different types of memory,
UART - a popular, simple serial interface
Power
As a power source, the system uses the connector microUSB. In practice, this means that to run Rasbperry Pi, you can use the popular in Smartphone world, charger with the above mentioned connector.
Operating system
In order to install the operating system, you just have to have the SD card connector on the computer and access to the Internet. In order to download the software and the file that contains the virtual operating system image, you should go to the page: link. Then, using the downloaded software, install the image on the memory card. The whole procedure is quick and uncomplicated, we prepared brief manual on how to install the operating system.
 
Raspberry Pi works i.a. with the following operating systems:
Raspbian
Debian GNU/Linux
Arch Linux ARM
RISC OS
AROS
Android 4.0
FreeBSD
Gentoo Linux
Google Chrome OS
Slackware ARM
Accessories
The Raspberry Pi, like any computer, requires some basic accessories to work correctly. Most of them, we have in our offer:
keyboard - as a primary tool for data entry,
SD memory card - drive of Raspberry,
HDMI cable - it can connect the device to the monitor,
A USB hub - it allows you to expand the number of USB ports (by default, two led-out),
Case - it will allow you to protect minicomputer from the external conditions. In our store, we have a version: white, black and transparent.
PiFace - in our assortment is also a module that extends the capabilities of GPIO ports
Wireless network USB card, thanks to it, the Raspberry Pi can connect to a wi-fi network.