Product description: Housing for HiFiBerry Digi+ and Raspberry Pi 4B - metal - black
Housingfor the set consisting ofRaspberry Pi 4BandHiFiBerry Digi+sound card. Made ofmetalinblack, it protects the module from mechanical damage by falls. External dimensions are94 x 61 x 42 mm. Mounted withscrews and spacers, so it can be quickly disassembled. The manufacturer provides a detailedinstallation manual forthe case.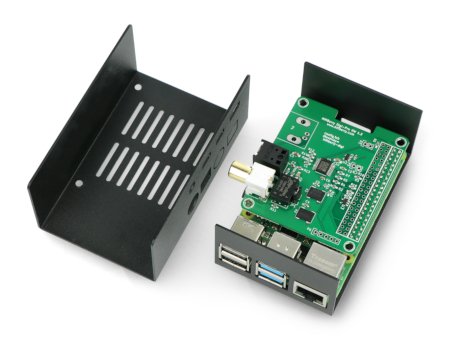 The subject of sale is housing, Raspberry Pi and cap can be purchased separately.
Technical specifications
Housing for: Raspberry Pi 4B and HiFiBerry Digi+
Openings:

improving air circulation and cooling process of the modules
holes giving access to connectors of Raspberry Pi 4B and HiFiBerry Digi+

Material: metal
Colour: black
External dimensions: 94 x 61 x 42 mm
Set contents
Two-piece HiFiBerry enclosure
Mounting elements:

spacer - 4 pcs.
screws - 12 pcs.
anti-slip washers - 4 pcs.