Product description: IQaudIO DAC Pro - sound card for Raspberry Pi 4B/3B+/3B
IQaudIO DAC Pro is based on a Burr Brown PCM5242 32-bit / 384 kHz converter , allowing for Full HD 24-bit / 192 kHz audio playback. The PCM5242 is the bigger brother of the PCM5122, which was used in the IQaudIO DAC+, providing a balanced output, better signal-to-noise ratio and THD. The module is equipped with two RCA connectors, a mini jack connector and supports a balanced / differential output for XLR. The communication overlay uses an I2S interface to reduce the load on the Raspberry Pi processor. IQaudIO has been taken over by the Raspberry Pi Foundation, providing ongoing support to Raspberry Pi users.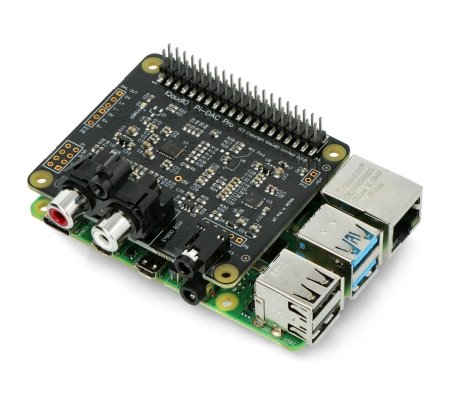 IQaudIO DAC Pro overlay for Raspberry Pi.
The IQaudIO DAC Pro is sold as an overlay, Raspberry Pi minicomputer can be purchased separately.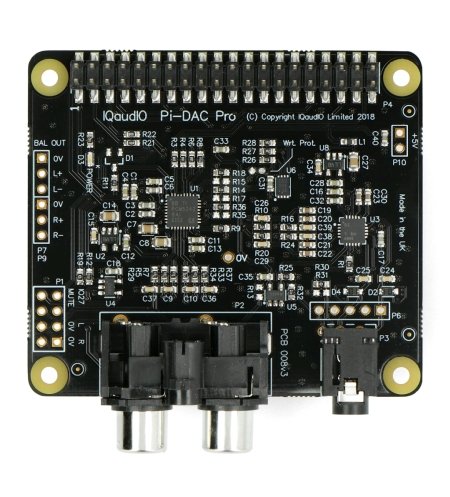 IQaudIO DAC Pro sound card.
DAC Pro is equipped with a headphone amplifier, the volume is programmed and shared with the line output. The XLR goldpin connector allows for connection to studio equipment or speakers powered by a longer cable.
The board has goldpin soldered in, allowing you to connect additional accessories to GPIO Raspberry Pi.
The drivers required for the sound card to work properly are built into the Linux system, including the Raspberry Pi OS.
The main features of the IQaudIO DAC Pro cover plate
HAT compliant
Full HD 24-bit/192 kHz audio support
Integrated volume control (ALSA)
Built-in high quality headphone amplifier (TI TPA6133A)
High quality sound: SNR 114 db and THD -94 db
Burr Brown 32-bit / 384 kHz DAC (TI PCM5242)
ESD security
Communication via I2S interface to reduce load on Raspberry Pi processor
Powered by Raspberry Pi, no additional power supply required
Two Phono / RCA connectors
JST pins for balanced XLR output (not supplied)
Mini DSP
For connection to the AMP+, 2x5 pins are required