Attention!
The product has been discontinued. Check other products in category.
Description
LoPy4 module provides communication with the networks LoRa 868MHz, SigFox, wi-fi and Bluetooth BLE on Linux, with support for Python developers. There is a system ESP32 with 4 MB RAM and 8 MB Flash memory. 24 lines GPIO interfaces, 2x UART, 2x SPI, I2C, I2S, microSD, and 8 channels of 12-bit analog-to-digital converter, which enable connection of sensors and creating the Internet of Things (IoT).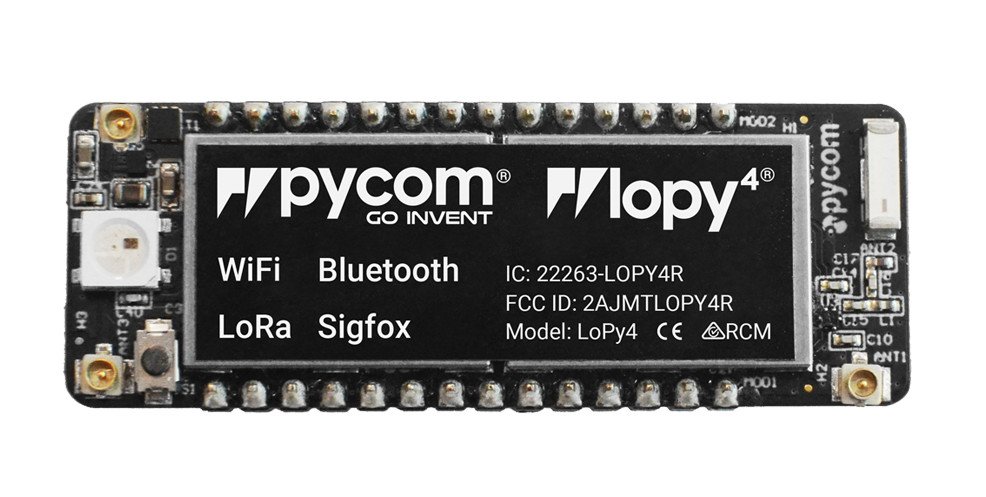 Key features
Working voltage: 3.3 V to 5 V (voltage regulator, 3.3 V)
Microcontroller ESP32

RAM: 4 MB
Flash memory: 8 MB

Built-in wi-fi module 802.11 b/g/n 16 MB/s
Built-in IP stack v6
Sigfox network module

Frequency:

RCZ1 - 868 MHz (Europe) power to +14 dBm
RCZ2 - 902 MHz (USA, Canada, Mexico) power to +22 dBm
RCZ3 - Korea and Japan
RCZ4 - 920 to 922 MHz (Central America, Asia) power to +22 dBm

Range: up to 50 km

The module long-range LoRa (Long Range)

Frequency:

868 MHz (Europe) power to +14 dBm
915 MHz (America, Australia and New Zealand) power to +20 dBm

Range:

The Node mode: up to 40 km
The Nano Gateway mode: up to 22 km (capacity up to 100 nodów)

Built-in Bluetooth BLE 4.2 and 2.0
Real-time clock RTC 32 kHz
Built-in DMA controller
Lines GPIO: 24
Network interfaces: 2 × UART, 2 SPI, I2C, I2S, SD Card
Built-in analog-to-digital Converter, 8 kanałowów with a resolution of 12 bits
Counters with four 16-bit PWM outputs
Built-in antenna SMD
Antenna connector.FL
Reset button
LED RGB
Wi-fi security: SSL/ TLS, WPA
Dimensions: 55 x 20 x 2.5 mm (without connectors)
First run
To start working with the module you need to download Pymak environment from the manufacturer's website, connect and create your own program or use existing samples.