Product description: DFRobot Gravity analog PH sensor / meter Pro V2
The PH pro V2 analog sensor allows you to measure thePH ofa solution, acidity or alkalinity. It is equipped with anindustrial electrodewith long life and simple connection to the module. The electrode is made of a glass PTFE membrane with low impedance. The sensor allows to measure PH in the rangefrom 0 to 14. It is powered by a voltagefrom 3.3 V to 5.5 V. Arduino compatible module, for simple connection you can use Gravity -DFRobot Expansion Shield.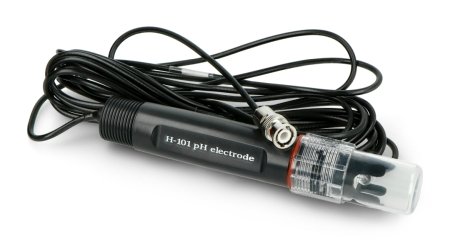 Measuring electrode with BNC connector.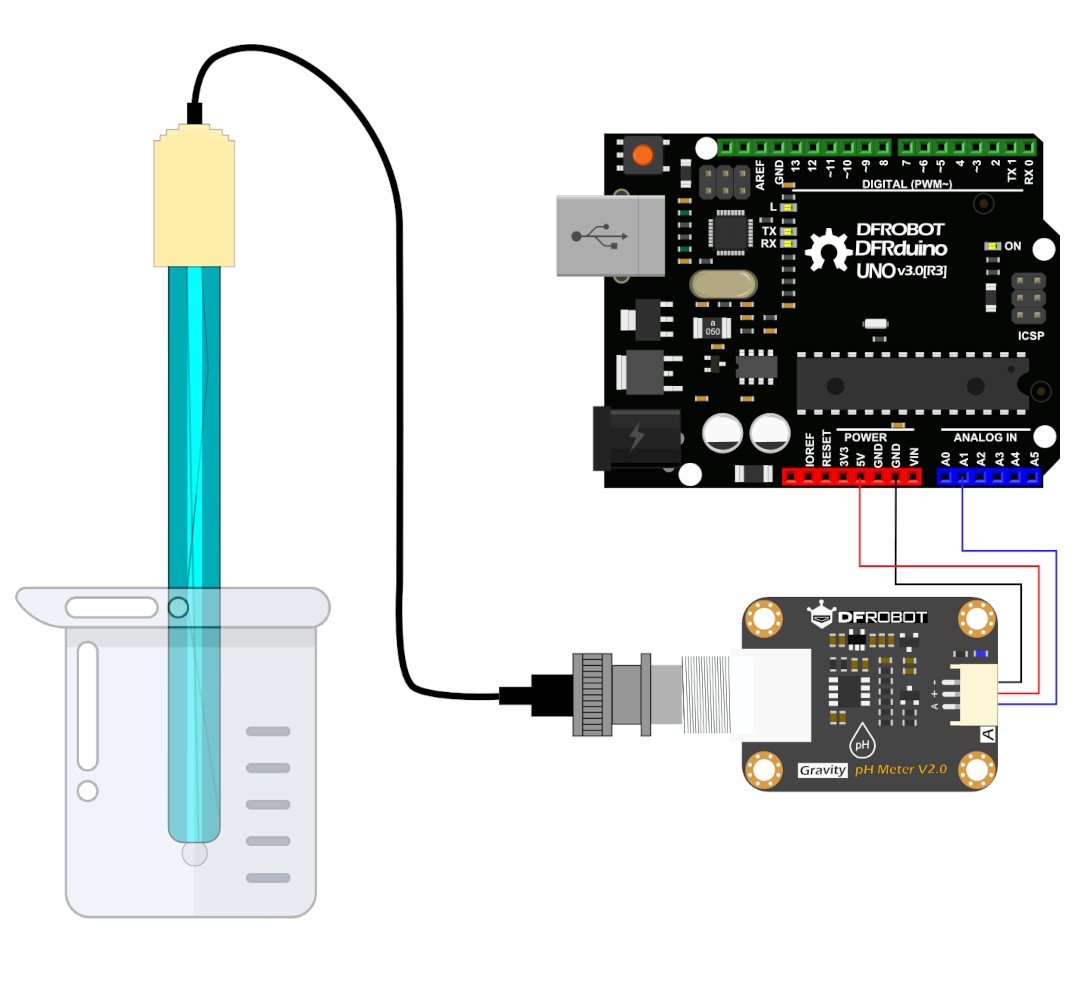 Example of sensor connection with DFRduino Uno.
PH measurement
PH is a value that determines the acidity or alkalinity of a solution. PH value is a scale of hydrogen ions activity in the solution. PH value is most commonly used in medicine, chemistry and agriculture. Usually PH is measured in valuesfrom 0 to 14. When the PH value is 7 - the solution is neutral, PH < 7 the solution is acidic, and when PH > 7 the solution is basic.
PH sensor connection
The sensor is equipped with aGravityconnector, which allows simple connection of the sensor with the main module. It communicates throughan analoginterface. It is powered from3.3 V to 5.5 V. It works with microcontrollers equipped with digital to analog converter. The electrode is connected with the module viaBNCconnector.
| Pin | Description |
| --- | --- |
| - | System ground. |
| + | Supply voltage from 3.3 V to 5.5 V. |
| A | Analog signal output (0 V to 3 V). |
Note:
1. The BNC connector and the signal conversion module must not get wet. Moisture may cause inaccurate measurements.
2. The signal conversion module must not be placed on a damp surface, otherwise it will affect the output impedance, causing inaccurate measurement.
3. The glass part of the electrode should not touch hard material. Any damage or scratches will damage the electrode.
4. After the measurement is completed, disconnect the probe from the module. The electrode should not be connected to the module for a long time without power.
PH Sensor Specifications
Signal conversion module:

Supply voltage: from 3.3 V to 5.5 V
Output voltage: 0 V to 3 V
Probe connector: BNC
Output connector: Gravity PH2.0, 3 pin
Measurement accuracy: ± 0.1 at 25°C

PH probe:

Probe type: industrial
Detection range: 0 PH to 14 PH
Temperature range: 0°C to 60°C
Accuracy: ± 0.1 PH at 25°C
Response time: up to 1 min
Probe life: 7 x 24 h over 0.5 years (depending on water quality)
Cable length: 500 cm
Set includes
PH probe
Signal conversion module
Gravity cable
Waterproof gasket - 2 pieces
BNC nut
Nylon spacer M3 x 10 mm - 4 pcs.
Screw M3 x 5 mm - 8 pcs.