Product description: Mounting power supply P360W24V - for Creality Ender-3 3D printer.
Mountingpower supply unit with designationP360W24V. It has auniversal input voltage range, which is from 115 V to 230 V AC. The power supply has a capacity of360 W, with an output voltage equal to24 V. The current capacity is15 A. P360W24V is dedicated to work with 3D printers from Creality - CT-228, Ender-3S, Ender-3, Ender-4. It has overvoltage, short-circuit and overload protection. Leads of the power supply have a form of terminal strip.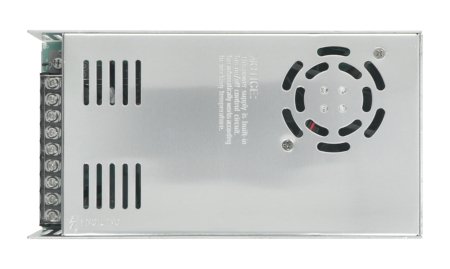 The power supply has convenient ARK screw connectors.
Technical specifications for the power supply
Designation: P360W24V
Dedicated to Creality 3D Printer: CT-228, Ender-3S, Ender-3, Ender-4
Input voltage range: from 115 V to 230 V AC
Type of power supply: impulse
Frequency: 50 / 60 Hz
Output voltage: 24 V
Current capacity: 15 A
Power: 360 W
Plug type: ARK screw plug
Construction material: metal
Dimensions of the power supply: 215 x 115 x 50 mm