Product description: 3D scanner - EinScan SP
EinScan SPis a professional device for 3D scanning of physical objects with a maximum size of 1200 x 1200x 1200 mm.The scanner is equipped witha rotating tableintegrated with a tripod, which ensures the right angle and stability of the scanner. Scanning can be done in two modes: manualandautomatic.The automatic mode uses an integrated tripod and a rotary table, while the manual mode uses only an external tripod.
Simple operation of the EinScan SP 3D scanner
EinScan SP is easy to use and requires no specialist knowledge. This makes scanning fast and easy. The manufacturer's software allows for automation of the scan connection and control of the rotary table.

3D EinScan SP with rotary table.
The technology used in EinScan SP
When the scan is completed, a high quality 3D data file is created. The use of white LED light ensures that the real geometry of the object is reconstructed with fine details.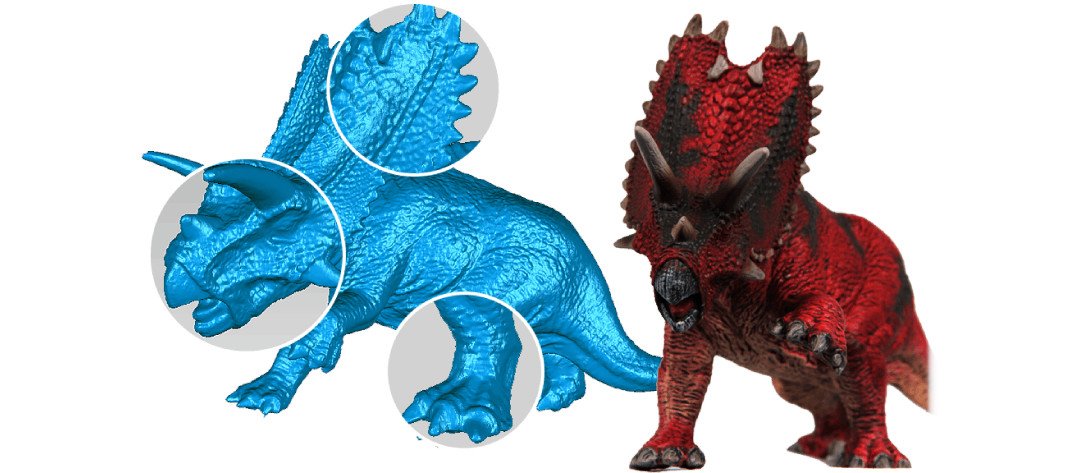 3D scan accuracy in EinScan.
Scanner communication with 3D printers
When the scanning process is completed, a grid of points is automatically created, which can then be saved in STL format and then printed out using a 3D printer.

The EinScan SP scanner is sold, the remaining items can be purchased separately.
Automatic calibration of EinScan SP
The scanner software has an automatic calibration function without fixed settings. It enables one-click scanning and automatic alignment and linking to generate a grid directly.

Automatic scanner calibration of EinScan SP.
EinScan 2.0 software
The EinScan 2.0 3D scanner software is easy to use, has a user-friendly interface, allows one-click data transfer to the Sketchfab platform and has a smooth process for sharing scanned 3D data directly over the internet.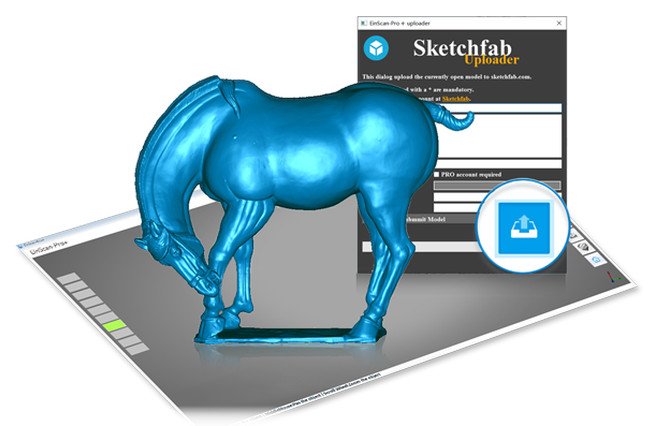 EinScan 2.0 software.
Specification and comparison of EinScan SE and EinScan SP 3D scanners
Model
EinScan SE
EinScan SP
Mode of operation
Manual
Automatic
Manual
Automatic
Combining scanners
Manual
turntable or manual
by hand or markers
Turntable, markers or manual
Single scan accuracy
0.1 mm
0.05 mm
Minimum size of the scanned object
30 x 30 x 30 mm
30 x 30 x 30 mm
Maximum size of the scanned object
700 x 700 x 700 mm
200 x 200 x 200 mm
1200 x 1200 x 1200 mm
200 x 200 x 200 mm
Single scan size
200 x 150 mm
200 x 150 mm
Scanning speed
< 8 sec
< 4 sec
Distance between sitting points
0.17 mm to 0.2 mm
0.17 mm to 0.2 mm
Texture scanning
Yes
Yes
Output file formats
OBJ, STL, ASC, PLY
OBJ, STL, ASC, PLY
Camera resolution
1.3 Mpx
1.3 Mpx
Equipment requirements

NVIDIA GTX 660 or better graphics card
1x USB 2.0 or 3.0
Dual-Core i5 or better
8 GB RAM
Windows 7, 8, 10 (64-bit)

NVIDIA GTX 660 or better graphics card
1x USB 2.0 or 3.0
Dual-Core i5 or better
8 GB RAM
Windows 7, 8, 10 (64-bit)

Power consumption
50 W
50 W
Mass
2.5 kg
4.2 kg
Scanner dimensions
570 x 210 x 210 mm
570 x 210 x 210 mm
Calibration plate
Standard
HD
Turntable
Included
Included + markers
Table load
up to 5 kg
up to 5 kg