Product Description: SGP40 Air Cleanliness Sensor - VOC - I2C - Waveshare 20168
Air purity sensor manufactured by Waveshare. It has a built-in SGP40 chip introduced by the popular Sensirion company, so it detects volatile organic compounds and measures VOC air quality from 0 ppm to 1000 ppm. The sensor's output is a digital signal and the values are presented by VOC index readings - from 0 to 500. The air quality depends on the range the reading is in - the lower the VOC index value the cleaner the air. The module uses I2C communication interface.
Special features of SGP40 sensor
Designed to detect volatile organic compounds.
Used for air quality monitoring, among other purposes.
It can be used to measure emissions from coal, natural gas, cigarette or kitchen smoke and emissions from construction work, white goods and then generate digital signals to run air treatment equipment.
It has humidity compensation and low heat dissipation, giving exceptional performance whatever the environment.
Kit contents
SGP40 Air Cleanliness Sensor - VOC - I2C - Waveshare 20168
Connection cable PH2.0 4PIN - 20 cm long
VOC index - ranges
from 0 to 100 - air quality: excellent
100 to 200 - air quality: good
200 to 300 - air quality: slightly polluted
300 to 400 - air quality: moderately polluted
400 to 500 - air quality: very polluted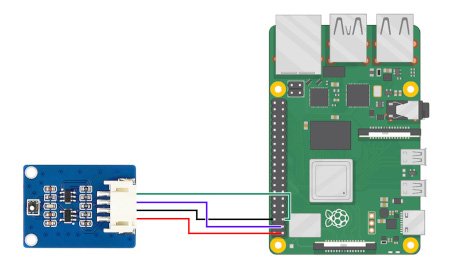 Example of sensor connection to Raspberry Pi.
Sensor pinout description
Green line - SCL - I2C interface clock line
Purple line - SDA - I2C interface data line
Black line - GND - Ground
Red line - VCC - power supply
Product is compatible with Arduino and Raspberry Pi.
Manufacturer provides detailed user guide which makes it easy to start working with the module.
Technical specification of the sensor
Type: gas sensor
Detection: VOC (volatile organic compounds)
Embedded chip: SGP40
Sensor output signal: digital
Communication interface: I2C bus
Interface address: 0x59
Measuring range:

VOC: from 0 ppm to 1000 ppm

VOC index value: 0 to 500

Response time: < 10 s
Turn-on time: < 60 s
Operating voltage: 3.3 V / 5 V
Module dimensions: 27 x 20 mm
Mounting hole diameter: 2 mm