Description
Smart image sensor, through which the robot can actually find items. Pixy has support for different devices, such as Arduino, Raspberry Pi or BeagleBone. Software and equipment are fully compatible with the ideology of OpenSource so you can modify them.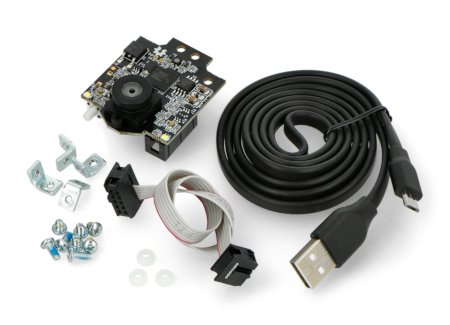 Pixy2 is smaller, faster and more effective than the previous version. Just like its predecessor, it can learn to detect objects but also has new algorithms that detect and track lines. Thanks to these algorithms, it can also detect the intersection and "road signs" that tell the robot what to do, for example, to turn left, slow down, etc. Pixy2 has a speed of 60/sec.
Key features
Many communication interfaces, i.a. UART, SPI, I2C and USB.
The ability to communicate with popular platforms, i.a: Raspberry Pi, Banana Pi and Arduino.
A speed of 60 frames per second.
The module has small size and is easy to connect.
PixyCam has built-in image processing systems so the microcontroller of the main board is not loaded with a large number of calculations.
Examples of application
Mobile robots - the device allows, i.a. to track the lines and to detect colors. Specifically, the algorithms also allow to determine the position, orientation and size of objects.
Alarms - the camera can notify the user about object approaching to it.
Automation - thanks to the ability to distinguish colors, size and location of the object, PixyCam is suitable to use in automation devices. Built-in memory allows you to store up to 7 items.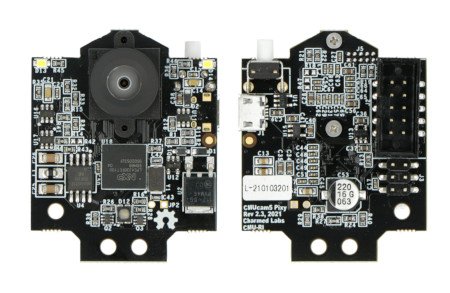 Camera PixyCam - front view (left) and bottom view (right).
First run
To launch the camera in Windows you need to:
download and install the latest version of the software from the manufacturer's website,
connect the camera via miniUSB cable (sold separately)
start the PixyMon program.
The device also can be connected with any microcontroller (including Arduino and Raspberry Pi) using available communication interfaces, such as UART, I2C, SPI. A detailed description can be found in the user guide.
Specification
CPU: 2-core NXP LPC4330, 204 MHz
Image sensor:

Aptina MT9M114

, 1296 × 976 pixels
Viewing angles:

Horizontal: 60 °
Vertical: 40 °

Current consumption: approx. 140 has
Supply voltage:

USB: 5 V
Non-adjusted input: 6 V to 10 V
RAM: 264 KB
Flash memory: 2 MB

Communication interfaces:

UART
SPI
I2C
USB
Digital
Analog

Integrated light source: approx. 20 lumens
Dimensions: 42 x 38 x 15 mm
Weight: 10 g
Set includes
Camera PixyCam ver. 2 CMUcam5
The ISP cable Arduino
MicroUSB cable