Product description: IME3D X-KIT - educational robot - for 3D printing
A set of basic elements for building an educational robot , which will be used both in the home environment and in educational institutions. X-KIT is a set for designing and coding robots with a difficulty level adjusted to the age of the child . The set includes a platform with motors and wheels, the remaining elements of the robot can be printed by yourself on a 3D printer thanks to a special application, thus creating a personalized educational toy. The set also includes an educational map, distance sensor, buzzer, cables and mounting elements.
How does the X-KIT educational kit work?
The dedicated X-KIT application created by the authors of the set allows for quick creation of robots through modular 3D design. The prepared project can be transferred to a 3D printer and printed, and then easily programmed. As the child develops their skills, they can use the tool in a different way.
X-KIT application
In the dedicated application you will find a huge library of materials that will allow you to create amazing robots in many shapes and colors. A friendly and simple 3D design system allows even the youngest children to quickly create their dream toys.
Modular 3D design . The application has over 650 ready-made components for creating new robots. Designing is done using the drag and drop method. You can also import your own, previously designed models into the app.
Graphic coding. It allows you to encode in two modes, both of which are easy to use (drag and drop). They are adapted to children of all ages and levels of advancement. The application also includes 40 sample programs, ready for implementation.
Robot control. The remote control available in the application allows you to take control of the robot. It includes 6 pre-designed movements, a joystick to control the direction of travel, a light start switch and a horn.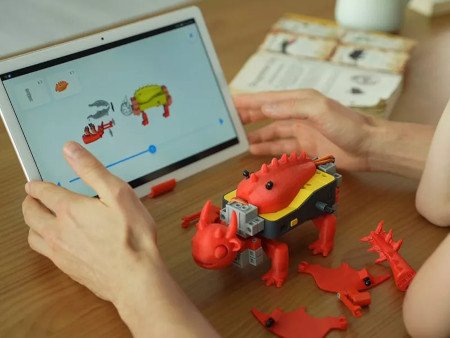 X-KIT application.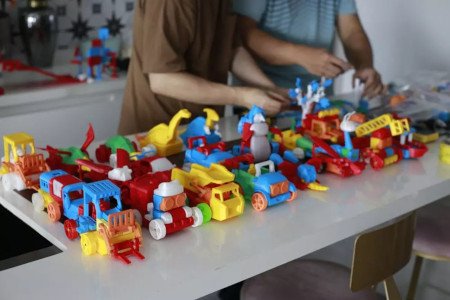 School study kit.
The perfect set for learning at school
X-KIT is perfect for educational institutions. It allows you to use a 3D printer to learn the design of three-dimensional models, which will then be used in the construction of the robot. The prepared structure can then be programmed in the X-KIT application with the use of graphic blocks. The kit can be implemented at school in any subject, even in early childhood education classes.
X-KIT controller
I / O ports - 8 pcs
Status LEDs - 2 pcs.
28 pin socket
MicroUSB battery charging port
Engines - 2 pcs.
Power button
MicroUSB data port
Universal wheel
Li-Ion battery
IR LEDs - 2 pcs.
RGB LEDs - 2 pcs.
Start / Pause button
Reset button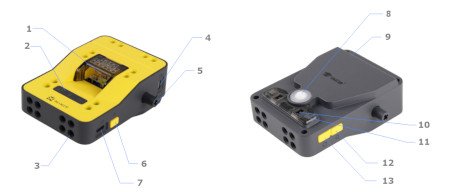 X-KIT controller.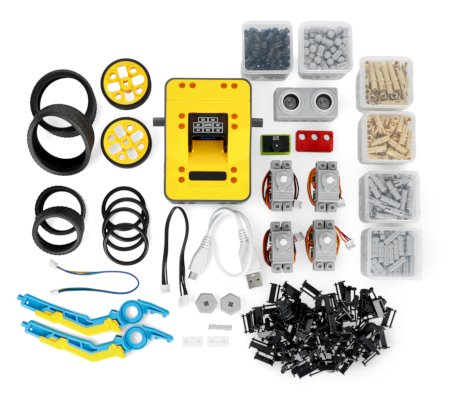 X-KIT contents.
Kit contents
1x X-KIT controller
4x servo
1x ultrasonic sensor
1x buzzer
2x wheel
8x tire
2x rubber tracks
8x ball pins
1x axle
1x long pin
1x axle pins
1x spherical axle
1x pin
1x manual
1x map
1x pliers
1x USB cable
User manual
‌