Product description: EEPROM module - 24LC32 - 32 Kbit / 4 KB - STEMMA QT / Qwiic - Adafruit 5146
32 Kbit / 4 KB EEPROM memory module manufactured by Adafruit. Uses I2C bus for communication and has 32 bytes write buffer. Allows data storage up to 100 years with 1,000,000 write and overwrite cycles .
Pinout description
VIN - power pin from 3 V to 5 V DC
3 V - power supply pin 3 V
GND - chip ground
SCL - I2C communication interface clock line
SDA - communication interface data line
A0, A1, A2 - pins for I2C communication interface address change allowing addressing up to eight EEPROM devices on the same bus
Set contents
EEPROM memory module
1x12 goldpin strip - 2,54 mm pitch
Technical specification of the module from Adafruit
Type: module with EEPROM memory
Embedded chip: 24LC32
Supply voltage: from 3 V to 5 V DC
Technology used: Low Power CMOS
Lifetime: up to 1 000 000 cycles
Data storage time: approximately 100 years
Communication interface: I2C bus
Interface address: 0x50 (default)
Schmitt triggers and noise filters on I2C bus inputs (SCL and SDA)
32-byte write buffer
Connectors: STEMMA QT / solder fields
Module dimensions: 25.4 x 17.7 x 4.5 mm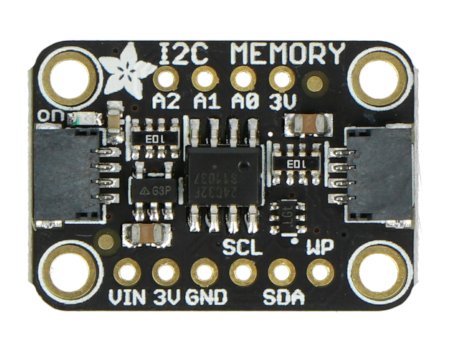 EEPROM memory module from Adafruit.
What is EEPROM memory?
Under the abbreviation EEPROM stands for electrically erasable programmable read-only memory , or non-volatile digital memory. Its task is to store data that are relevant to the microcontroller. A characteristic feature of this type of memory is storing data even after power failure. Number of writes and deletes of data on EEPROM is limited, while the number of reads is infinite. In addition, the process of writing or overwriting can also apply to a single byte.