Product description: HPCB 50:1 12V motor - Pololu 3039
Small, lightweight yet powerful motors from Pololu are used by robot builders as drive units. Units can be powered up to 12 V, with usable power above 3 V.
Dimensions of the motor
The motor body is a cuboid with dimensions of 26 x 12 x 10 mm. The gear is 9.27 mm long. The output is a 3mm D-shaped shaft. The total weight is about 9.5 g.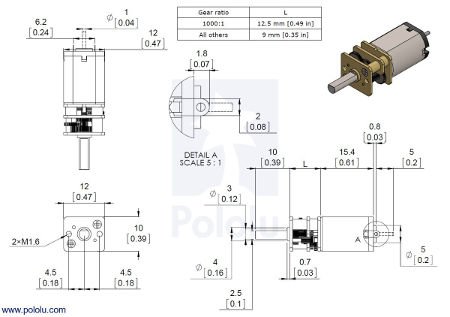 The drawing shows the dimensions of the Pololu micro motor with gearbox.
Accessories for the motor
We offer a range of accessories that work with Pololu micro motors:
Motor controllers
The control of direction and rotational speed is possible with the use of DC motor controllers. In the offer there are both integrated circuits for individual soldering and ready to connect, cooperating with kits (eg Arduino) modules.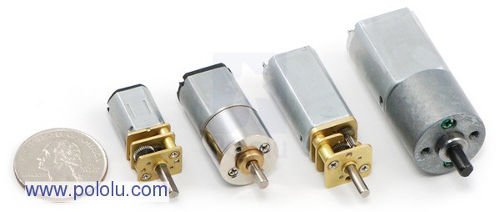 We also offer many other motors.
HPCB motor specification
| | |
| --- | --- |
| Supply voltage: | 3 V - 12 V |
| No-load current (12 V): | 100 mA |
| Current at stopped shaft (12 V): | 800 mA |
| No-load speed (12 V): | 625 rpm |
| Torque (12 V): | 1.1 kg*cm (0.1 Nm) |
| Gear ratio: | 51:45:1 |
| Brushes: | Carbon, extra strength |
| Shaft diameter: | 3 mm |
| Body dimensions: | 26 x 12 x 10 mm |
| Weight: | 9,5 g |
| Double-sided shaft: | NO |