Description
A module that allows you to build a fully functional radio. It is controlled by the I2C bus. It is powered with the voltage from 2.5 V to 5.5 V. It has a high sensitivity thanks to the integrated low-noise amplifier. It works, i.a. withArduino,AVR,Raspberry Pi.
Specification
Supply voltage: 2.5 V to 5.5 V
Supply current: 15 mA
Modulation: FM
Frequency range: 70 MHz to 108 MHz
Built-in quartz resonator: 32.768 kHz
Communication interface: I2C
Pins' pitch: 2 mm
Sizes: 11.2 x 11.2 mm
Details inthe documentation.
Pins pitch
The system has the pins for surface SMD soldering. The pitch is 2 mm.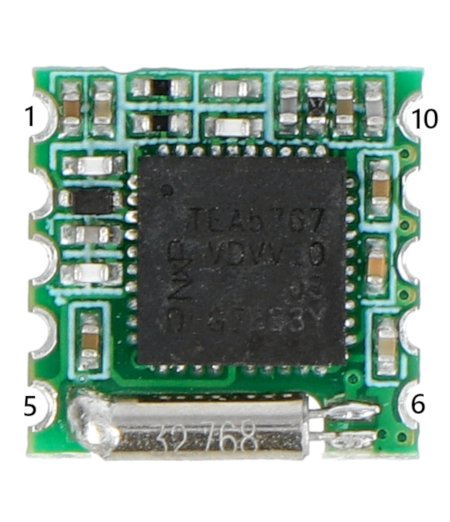 | No. | Name | Description |
| --- | --- | --- |
| 1 | SDA | The data line of the I2C bus. |
| 2 | SCL | Clock line of the I2C bus. |
| 3 | BUSMODE | You need to connect it to ground. |
| 4 | Write/Read | You can leave it unconnected. |
| 5 | VCC | The supply voltage of 5 V. |
| 6 | GND | The ground of the system. |
| 7 | R-out | Output - right channel. |
| 8 | L-out | Output - left channel. |
| 9 | MPX0 | You can leave it unconnected. |
| 10 | ANT | The pin for the antenna connection. |