Specification
The microcontroller STM32F429ZIT6:
Core: Cortex M4F
Clock Frequency 180 MHz
ADC converter 12-bit
DAC converter 
2 MB of Flash
256 KB of RAM

The debugger ST-LINK/V2-B is located on the board with the possibility to work as a separate device with the SWD output
The system is running on USB or with external power supply: 5 V / 3.3 V
On board are also:


3-axis gyroscpe
Touch screen 2.4" QVGA TFT LCD
Six LEDs
(two at user's disposal)
Two buttons (user's and reset)
Micro-AB USB connector
Goldpin leads for I/O ports

Board sizes (with goldpin connectors): 120 x 65 x 15 mm
A detailed description and sample programs are onthe website of the manufacturer.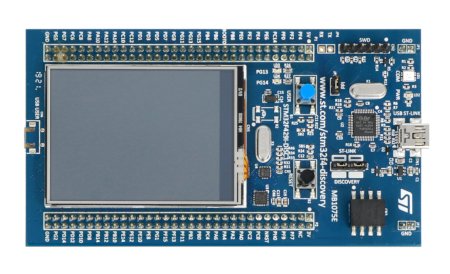 After connectingthe mini-USB cable, menu appears on the display, installed by the manufacturer.
Description
The module allows to implement projects based on the popular 32-bit microcontroller from family STM32. Thanks to Discovery, the user can discover the opportunities offered by the latest ARM Cortex M4F with hardware floating point unit. Creating software is facilitated by libraries and many examples are available on the websiteof the company ST. In addition, the board has an gyroscope, i.e. (including the earth acceleration) and the LCD display 2.4" QVGA TFT.
To program the system, sufficient isthe miniUSB cableand programming environment. Installation of systems will be allowed by breadboard and connecting wires.