Specification
The microcontroller STM32F407VGT6:

Core: Cortex M4F
The Clock Frequency Of 168 MHz
1 MB Flash
192 kb RAM
Case LQFP100

The debugger ST-Link/V2 is placed on the board with the ability to work as a standalone device with the SWD output.
The system is powered via USB or via external power supply: 5V/3.3 V
Board also has:


3-axis accelerometer 
Eight LEDs
(four at user's disposal)
Two buttons (user's and reset)
Connector micro-AB USB
Leads goldpin for I/O ports
A detailed description and sample the programs are onthe website of the manufacturer.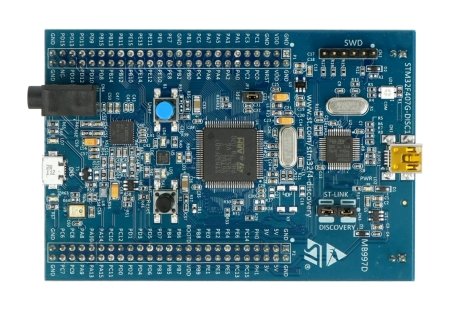 The module allows to implement projects based on the popular 32-bit microcontroller from family STM32. Due to the discovery, the user can discover the opportunities offered by the latest ARM Cortex M4F core with hardware floating point unit. The libraries and many examples available on the websiteof the company ST, facilitate creating the software. In addition, the board has an accelerometer, i.e. the sensor which can measure acceleration (including the earthacceleration).
For programming of the system, you only have to have the mini USB cableand a development environment, for example, the freeCooCox. The breadboard and hook-up wires will allow to mount the systems.