Product description: WiFi Controller - tinyESP
Universal WiFicontrollertinyESP withfullopen sourcesoftwareEasyESP. The module is based on popularESP266chip which allows devices to communicate viaWiFi. TinyESP is pre-programmed and requires only initial configuration.
Basic features
Power supply via microUSB (5 V) or Li-Pol battery
Relay with NO, C, NC contacts
1-wire bus for temperature sensors
Universal logic or pulse input
I2C bus and UART serial port
2.54 mm connector to connect 0.96" OLED display
Buzzer, responsible for sending acoustic notifications
Transmitting IRDA diode, sending messages through the use of infrared technology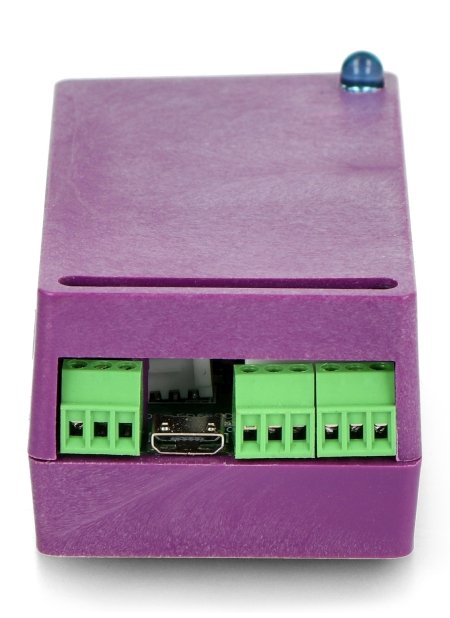 The controller can be powered via the microUSB port or Li-Pol battery.
Suggested use
Measurement of ambient parameters: temperature, humidity, smog level, CO2, lighting
Voltage measurements in the range from 0 V to 5 V
Monitoring of logic state 0-1
Cyclic sending of measurements to own server (eg Domoticz, OpenHAB) or to the cloud (eg mqtt.ats.pl)
Controlling devices using relay or transmitting diode
Simple automation - switching on the relay after exceeding the set value from the sensor
Sending e-mail notifications
Control of current data using the display
Simple distance measurement
Support for RFID readers
Technical specification
Supply voltage 5 V
Relay: max. 3 A / 120 V AC
Maximum power consumption: 5 W
Radio interface: WiFi 2.4 GHz 802.11bgn
Dimensions: 72 x 40 x 3 mm (without DIN holder)
Weight: 42 g