Description
A module that allows you to manage any device with USB port. Communicates through UART interface. It has 24 analog inputs and 40 digital inputs / outputs. Outputs operate at voltage of 3.3 V.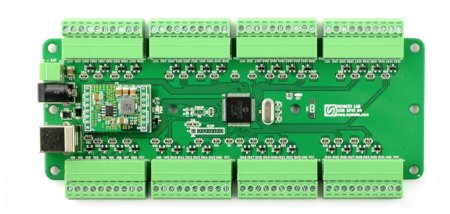 The maximum performance of the outputs current is 25 mA,
therefore, you should not connect it directly to the device, LEDs, etc.
Service module
All pins can be individually programmed as inputs or outputs. The module can be controlled from any application with a serial console, for example, RealTerm. The device supports user-friendly commands, e.g. "gpio read 1" reads the GPIO 1 value. The full list is given in the user guide. The manufacturer also provides source codes of programs in different programming languages.
Specification
The number of GPIO pins: 64 (screw terminal block connectors)
The number of analog pins: 24
Supply voltage: 5 V (USB type B or DC jack)
The maximum performance of the outputs IO00 - IO63 current: 25 mA
Working voltage of pins: 3.3 V
Resolution of the A/C teansmitter: 10-bit
Connector: miniUSB (wire soldseparately)
Module dimensions: 203 x 76 x 25 mm
The 

manufacturer has prepared a detailed 

guide

 together with the module's manual.