Attention!
The product has been discontinued. Check other products in category.
Description
Shield for Arduino from Cytron, allowing you to connect the system to a wi-fi network. It includes a popular module ESO-WROOM-02, supports 802.11 b/g/n. It has the ability to control using AT commands using a serial UART interface. It works withArduino boards, for example, a version of Uno or Leonardo. It has configurable inputs and outputs, and analog-to-digital converter. The board has a slot for microSD cards to storage the user's files.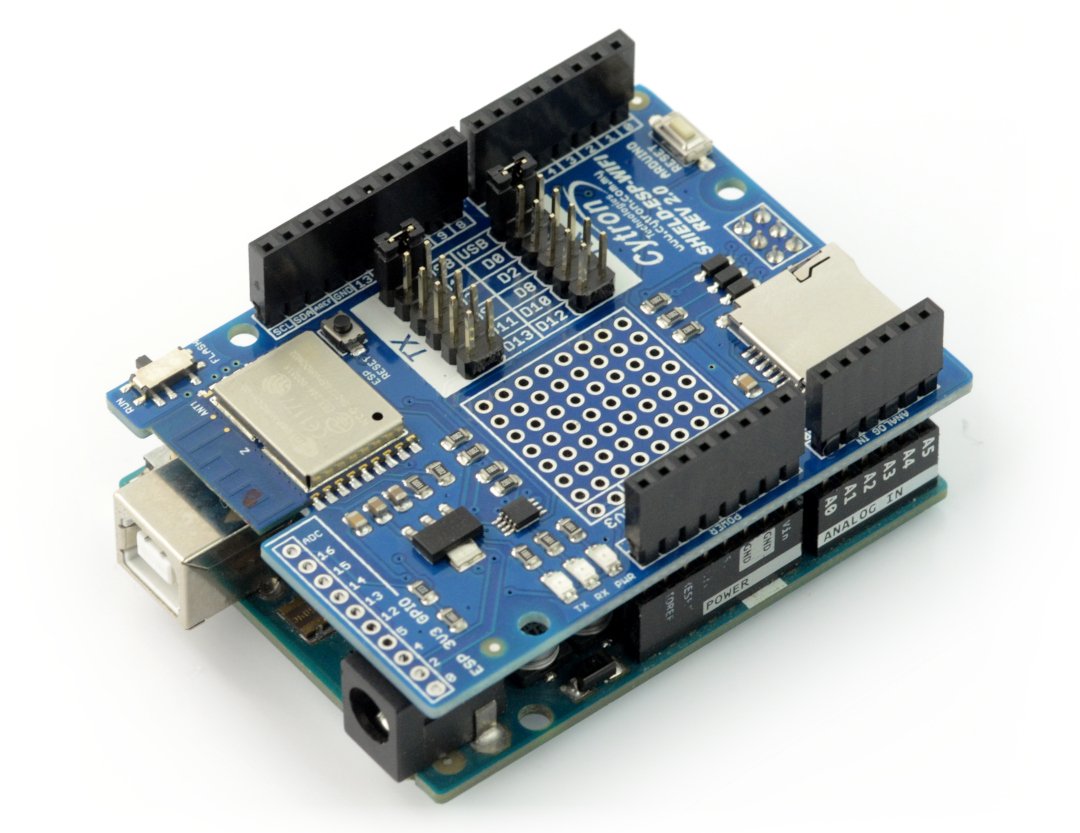 The subject of the sale is a wi-fi shield,the Arduino Unocan be purchased separately.
What's on the board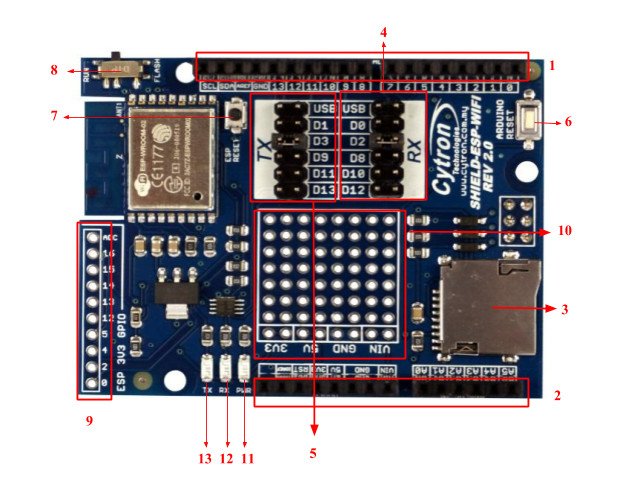 Digital pins of I/O.
The analog input pins.
The microSD slot (CS): digital pin 4 was used as a Chip Select for the microSD slot. Other connections should not be made using that pin.
Select an RX pin: connectors to choose an RX pin - through a jumper - from Arduino pins: D0, D2, D8, D10 and D12.
Select a TX pin: connectors to choose a TX pin - through a jumper - from Arduino pins: D1, D3, D9, D11 and D13.
The Reset button of the Arduino.
The Reset button for the ESP module.
Switch Flash/Run:
Flash mode: the module waits for an installation / firmware upgrade
Run mode: the module starts with the installed firmware
Connectors GPIO of the module ESP: pins powered with the voltage of 3.3 V with 9 digital I/O and 1 analog input.
Prototype field: 56 fields - 8 x 7-pins powered with voltage of 3.3 V / 5 V or VIN.
LED of the ESP power.
LED RX.
LED TX.
Specification
The module is compatible withArduino UnoRev3 and derivatives
It works with 802.11 b/g/n
Graphics: ESP-WROOM-02
It has an integrated TCP/IP Protocol
Transmitter power in 802.11 b mode is +19,5 dBm
Slot for microSD cards under the pin D4
Prototype field: 56 fields - 8 x 7-pins